Review: 'Stuntwomen: The Untold Hollywood Story' is a Long-Overdue Celebration of Female Stunt Performers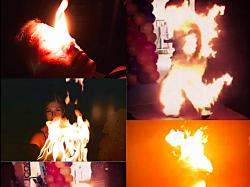 Action films garner huge audiences and profits for Hollywood. Yet, stunt people are too often overlooked when we discuss or acknowledge films, especially women stunt performers.

Based on the book by Mollie Gregory, "Stuntwomen: The Untold Hollywood Story" is a documentary directed by April Wright, written by Nell Scovell, and narrated by actress Michelle Rodriguez. The documentary features 34 stuntwomen, as well as stunt coordinators, directors Paul Feig, Paul Verhoeven, Anne Fletcher, and film critic Ben Menkiewicz. It covers a breadth of topics, including the history of stuntwomen, sexism, racism, body size, women becoming stunt coordinators, drugs on-set, getting blacklisted, injuries, safety, and death. They discuss various types of stunt work: Fight scenes, high falls, stunt driving, wirework, fire stunts, and utility stunts. We hear a variety of perspectives from older women, younger women, and women of color.

Menkiewicz says that in the 1910s women did their own stunts, and Helen Gibson was the first stuntwoman. According to the documentary, the number of stuntwomen increased due to the women's rights movement, which increased women in action roles on-screen, as well as "the popularity of disaster films in the '70s."

The stuntwomen talk about specific stunts they performed. Jeannie Epper discusses doubling for Lynda Carter in "Wonder Woman." Jade David talks doubling Pam Grier in "Foxy Brown." Donna Keegan discusses her stunt in "True Lies," which she called "a stunt performer's dream come true," in which, doubling for Jamie Lee Curtis, she climbs out the roof of a moving car to hang from a helicopter ladder. Debbie Evans talks doubling for Carrie-Ann Moss on "The Matrix Reloaded," riding a motorcycle, weaving in and out of traffic. We also see behind the scenes as Michelle Stubbs works as a stunt coordinator on season 11 of "The X-Files." We also hear from Jessie Graff, Alyma Dorsey, Heidi Moneymaker, and many more.

Despite their impressive feats, stuntwomen are still treated differently from men and face sexism. Most stunt coordinators are men. Men get hired more often than women for utility stunts. Women's costumes are tighter, not affording much room for padding, so they use "stunt bumpers," thin, gel-like pads under clothes. The stuntwomen say men are assumed to be competent on-set, whereas women must "constantly prove" themselves.

Throughout the film, the stuntwomen talk about overcoming obstacles and persevering. Jade David says stunt work "shaped" her perception. "I realized that no matter how afraid you are, that you have the fortitude to go through that and survive on the other end." It's inspiring.

It's great that "Stuntwomen" features a variety of stuntwomen. It's a fairly good overview, but because it tries to encompass everything — the number of stuntwomen featured, the variety of topics discussed, and the interviews moving rapidly — it prohibits more depth, feeling surface level at times. The documentary is traditional in its format and organization. At times, the editing feels disjointed. The documentary is at its best when it eschews formulaic narration and lets the women share their challenges, the inequalities they face, and the stunts they've performed. The documentary gets progressively better, becoming more emotional and compelling.

Watching the documentary encouraged me to read the book to learn even more about women in stunt history. I love that the documentary chronicles and celebrates the valiant hard work stuntwomen do. So much planning and preparation go into stunts. After watching the documentary, I have a whole new level of respect for stuntwomen.
Comments on Facebook