Review: 'Moxie' Starts a Revolution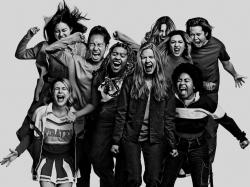 Based on the novel by Jennifer Mathieu, "Moxie" is sort of what John Hughes might have written if he were alive today, had evolved beyond his stereotypes, and got squarely in touch with his feminine side.

With that same fresh, fun feel of an '80s teen comedy, "Moxie" tells the story of a shy teen named Vivian (Hadley Robinson) who is disgusted by the sexist and misogynist actions of the people in her school (both students and adults), and decides to find a platform to do something about it.

Being inspired by her single mom (Amy Poehler who also directed), whose rebellious teenage years included a love of Bikini Kill, Vivian anonymously publishes a zine about the actions she witnesses at school — and, in doing so, starts a revolution.

Vivian also befriends new student Lucy (Alycia Pascual-Pena) who has endured her share of verbal abuse by quarterback Mitchell Wilson (Patrick Schwarzenegger). Meanwhile, hunky Seth (Nico Hiraga) shows some interest in not only the movement, but in Vivian herself. None of this goes over so well with Vivian's life-long best friend Clauda (Lauren Tsai), who just wants Vivian to stay hidden with her until they can go to college and start fresh.

With the school principal (Marcia Gay Harden) trying to brush off the bad behavior of their star student and exhibiting her own ignorance on social issues, Vivian doesn't have any adult figures to go to once things start to unravel. Mom might have been a rebel in her teenage years, but she's an ER nurse and loving mother that has put that all behind her. Not that she has lost her ethics, but they just aren't as important as paying the bills, trying to date a new man, and raising her daughter.

As directed by Poehler, this is another film made in the last few years that treats teenagers with respect and nails the zeitgeist. It's funny and witty, and while it's a bit too tidy in its finale, it addresses important issues in a way that makes you wake up, while also being entertained. And it's not just focused on things like the treatment of women or people of color; "Moxie" finds the time to address typical teenage angst, never forgetting that while these kids want to change the world, they're still kids going through a lot.

If most of the U.S. was back in school (physically), I could see this inspiring teenage girls (and boys) to wake up their schools and stop allowing the behavior of the past to move into the future. We all need to put a little moxie in our lives and this "Moxie" is smart and punk enough to do just that.


"Moxie" arrives on Netflix March 3rd.
Kevin Taft is a screenwriter/critic living in Los Angeles with an unnatural attachment to 'Star Wars' and the desire to be adopted by Steven Spielberg.
This story is part of our special report titled "Streaming Reviews." Want to read more? Here's the full list.
Comments on Facebook