Review: Heady Lyricism and Fierce Acting Comes to DVD in 'My Little Sister'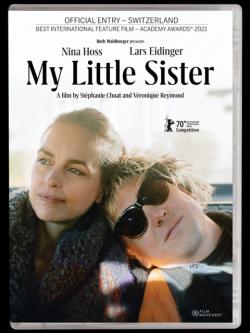 Why do you watch movies? Do you watch them to laugh, escape and be diverted from daily life, or do you watch them in an effort to do something that's good for you, something that will improve your mind, and something that may very well be transformative?

"My Little Sister" is a literary drama created for those that look for the later, full of heady lyricism and fierce acting moments. Selected to compete for the Golden Bear at the 70th Berlinale, it was the Swiss entry for Best International Feature at the Oscars, though it wasn't nominated.

At its heart, "My Little Sister" is a riff on a very common scenario: The talented writer paralyzed by writer's block, an inherently non-dramatic subject, an inherently exhibitionistic subject, and, for all this, a story that is endlessly told, even though it continually rates something between an eye roll and a yawn.

Luckily, this particular film features a talented, engaging actress as its struggling writer, Nina Hoss ("A Most Wanted Man"). Hoss plays Lisa, a playwright whose twin brother, (Lars Eidinger), is a talented actor and desperately wants to get back on the stage. Unfortunately, he suffers from an aggressive type of leukemia and has little time left.

As Lisa struggles to meet the needs of her husband and her family, her lack of creative output weighs on her. And ultimately, though she loves him desperately, it is her brother that seems to be the albatross around her neck.

This set up is ripe with metaphor, and directors Stéphanie Chuat and Véronique Reymond's 2020 Swiss drama is rich in all types of imagery - not just in the photography (including a breathtaking paragliding scene), but in a good deal of verbal imagery as well.

At one point Lisa and her brother consider the funeral rituals of the Torajas people, an indigenous population in South Sulawesi, Indonesia. This group doesn't simply bury their dead; they have elaborate ceremonies full of music, feasting, hanging the deceased in trees, and the public expectation of graphically demonstrative emotion. (As an homage to the Torajas, perhaps, the actors fill their performances with demonstrative emotions as well. Though the characters spend the majority of the film preparing for grief, one never gets they feeling they're holding back.)

This DVD release offers a bonus short film keeping somewhat to the theme. "Three Deaths" is a 13-minute-long adaptation of a Tolstoy short story.


"My Little Sister" comes to DVD April 13.
Comments on Facebook