Review: 'Triple Threat' Checks All The Boxes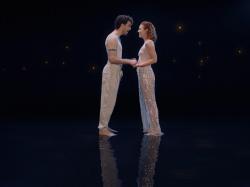 As a theater-lover/fan of movie musicals, I've seen dozens with plots about joys and woes of putting on stage shows and the personnel's personal and professional relationships invested, tested, and protested. There's no business like show business for subject matter full of full-circle moments, drama, deception, dreamy idealism, clichés, convenient coincidences, and self-centered ambition. Pressured rehearsals! Firing the star! Waiting for reviews! Artistic differences! Backstage romance!

"Triple Threat" checks all the boxes, without always keeping the dangers of excess in check, sometimes veering into angsty soap opera territory, flinging accusations ("You stopped caring!") with one huge argument with the F-word used relentlessly, interrupted by a more attention-demanding event.

The film relies heavily on sad-eyed pauses, mean or meaningful looks, tense or toothy smiles, the blame game, and kisses among gender-fluid/relationship-morphing characters. Starting in 2009, we follow intertwining paths of New Yorkers and their arty modern musical. Will they get to the big time (Broadway) someday? The film's opening scenes are laced with foreshadowing; there's the youthful understatement about relationships being difficult, a prediction that an actor vilified for jumping ship will be back in a future incarnation of the project, imagining Broadway success, and positive potential for parenthood.

Jump forward a decade.... The musical is still the nurtured "baby" of its two laser-focused female creators. Meanwhile, parenting a human baby is desired by the bi guy who is their star/friend (and one's onetime lover). He wants either of them to donate an egg or womb -- no other commitment --- just when their musical may advance to the big time. So, what could possibly go wrong?

The (real) children's book "Sam and the Firefly" (in which the titular insect happens to be named Gus), catches the eye of the wannabe-daddy, who also is named Gus. Also, the long-gestating musical happens to be named "Firefly," and its advertising slogan and title song's key line happens to be "Light up the sky," which recalls another kid-lit item, "Firefly Light Up the Sky," as well as the Moss Hart play about theater people debuting a play. (But no relation to the ancient operetta "The Firefly.") These are perhaps "insider" references, but the prominent one is about people finding the metaphorical equivalent the "inner light" that makes fireflies glow.

To err is human, to forgive -- well, you know. The flawed, fraught characters seem so solipsistic or smug sometimes, but such qualities aren't foreign to some obsessed with theatrical success. Among the pluses are some fun NYC theater world references/locations and two songs by musical theatre songwriting team Sam Carner/Derek Gregor, with Andrew Wheeler's mood-enhancing musical direction.

Stacey Maltin is "Triple Threat's" more-than-triple threat participant, being its director, one of its writers, producers, and editors, as well as playing Chloe, "Firefly's" co-writer and star, Jay DeYonker (Gus), is her co-writer. Margarita Zhitnikova, the fictional musical's director/co-writer is another producer.


will play at the OUTshine Film Festival.
ROB LESTER returns to Edge in 2019 after several years of being otherwise occupied writing and directing musical theatre shows, working as a dramaturg, arts consultant, and contributing articles and reviews to various outlets. His long-running "Sound Advice" column covering cast albums and vocal CDs has been running regularly at
www.TalkinBroadway.com
for almost 15 years.

This story is part of our special report titled "OUTshine 2021." Want to read more? Here's the full list.
Comments on Facebook