Review: 'Another Gay Movie - Director's Cut' Still a Gay Good Time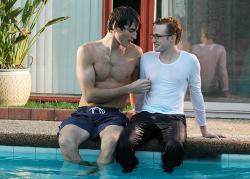 In the context of 2006, when Todd Stephens' "Another Gay Movie" was released, we were still living in George W. Bush's post-9/11 America: A majority of Americans opposed same-sex marriage, Don't Ask Don't Tell was still military policy, and the administration opposed expanding already-existing hate crimes legislation — legislation, mind you, that already protected people on the basis of religion and ideology, but not LGBTQ folks. In pushing for all-inclusive hate crimes legislation, we were, conservatives problematically protested at the time, demanding "special rights."
And in the context of that time — where a begrudging acceptance began to emerge, to the effect of "It's OK to be gay, just keep it to yourself" — more progressive show runners and film makers began to push back on heteronormativity by working in-your-face queerness into their scripts. Shows like "Queer as Folk" made no... er... bones about depicting open relationships and featuring gay anal sex scenes that left little to the imagination. "Queer as Folk" would also tackle important issues to the community, such as living with HIV (Ben) when your partner is negative (Michael), and the devastating impact of crystal meth on gay, bi, and queer contingents of the community (Ted).
And serious dramatic films like "Brokeback Mountain," with moving star turns by Jake Gyllenhaal and the late Heath Ledger, explored what it meant to be queer in the much less frequently examined context of rural America. While Hollywood continues to live in a bubble, as if all of the U.S. has caught up to Los Angeles' and NYC's queer politics, the very real fact is that LGBTQ folks outside of metropolitan locales don't necessarily have it easier today because of the SCOTUS 2015 ruling that legalized marriage equality nationwide, or the repeal of Don't Ask Don't Tell in 2010, or the Matthew Shepard and James Byrd Jr. Hate Crimes Prevention Act in 2009. There's still work to do, folks, no matter what Ryan Murphy has to say.
So what does "Another Gay Movie," which commemorates its 15th anniversary year with an expanded DVD re-release this month, have to offer us now?
Stephens, of course, crafted a no-holds-barred queer-centric spoof on heteronormative teen comedies like "American Pie." In place of that movie's straight, cisgender lead shamelessly screwing an apple pie because it's reportedly similar to the feel of a vagina, Andy (played by the adorable Michael Carbonaro) gives it good to a quiche lorraine after his friends equate the texture of the popular brunch dish to fingering a guy's back door. And in Stephens' film, instead of panty-chasing, these four queer boys make a pact to finally have anal sex — either as penetrator or penetrated — during Summer break before they all head off to college in the Fall. The result is outrageous, ridiculous, and largely fun.
Stephens pokes fun at stereotypes by over-exaggerating them — such as when the guys try to suss out who's a bottom and who's a top based on how they look and behave. So, neither flamboyant femme boy Nico (played by the ever-expressive Jonah Blechman), who woefully pretends to be straight with a blind and adoring girlfriend, nor cute, bespectacled ginger geek Griff (played by Mitch Morris) could possibly be tops, right? And handsome jock Jarod (played by Jonathan Chase) certainly isn't a bottom? Meanwhile, Carbonaro's Andy is trying to figure out what he's into — more specifically, how big he likes it, raiding the refrigerator for veggies as makeshift dildos of all shapes and sizes. Like his straight "American Pie" counterpart, Jim (Jason Biggs), Andy can't seem to pleasure himself without getting caught by by mom (played by drag icon Lypsinka) and dad (Scott Thompson).
Aside from the boys' proclivities, each finds themselves paired up in unexpected ways — interracially, with muscle jocks, daddies, bears. We get some BDSM with British talk show host Graham Norton playing the boys' teacher Mr. Puckov (hardy har har), who moonlights as Rodzilla, a dom top into water sports that Andy connects with on Manhunt. The prospect excites Andy, who had lusted after Mr. Puckov all year, until he discovers water sports isn't hanging out in his teacher's backyard swimming pool. Norton is a welcome delight here in the same way RuPaul was in "But I'm a Cheerleader," playing a role that avoids typecasting.
We see the breakdown of bottom-shaming — from the beginning when the boys all declare themselves tops because, gasp!, who would be a bottom? And we see how they all reconcile their desires, shaking off heteronormative cultural constructions around bottom-shaming (which still persist among GBQ men, by the way), only to discover the joys that the passive role can — and should (take note, tops) — bring.
Then there's the boys' "bull dyke" lesbian friend/antagonist, Muffler — yes, like Stiffler in "American Pie," and yes, because she loves and gets plenty of "muff." How does she, the boys wonder, and we find out as the end credits roll.
Stephens loads the film with plenty of references to other LGBTQ films and shows, in particular "Queer as Folk" — in a few moments toward the end, Nico's mother (played by Stephanie McVay) recalls Sharon Gless' Debbie Novotny in "Queer as Folk." "Mommy Dearest" is another reference point, with Lypsinka's expressions punctuated by horror-flick soundtrack motifs. The latter doesn't particularly work, conveying as an in joke that younger viewers are less likely to get.
Included in the director's cut is new footage that refers to Coco Peru's famous bathroom scene in "Trick," which is amusing but certainly not essential. Also, with the prevalence of the Internet in 2006, one would think the boys — Andy, in particular, given his experiences in the film — would at least be aware of what BDSM, pNp, special K, and double penetration are. But then again, such awareness wouldn't play very well into the film's comedic agenda.
Those quibbles aside, hopefully PC and cancel culture will be kind to this film for its audacity in not just crossing rigid heteronormative lines in teen comedies, but in blatantly jumping over them. To say "Another Gay Movie" is intentionally over the top is a an understatement of hung top proportions. Sometimes the acting is so bad, it's good. A few attempts at shocking humor haven't aged well — such as when Stephens works a gerbil, a la Richard Gere (ugh...), into a couple of scenes. But those failed moments are few.
In the end, it's difficult not feel a twinge of joy for each of the four boys as they finally get laid... in ways that you don't see... er... coming. And for a few of the boys, something more substantive awaits.
The 15th anniversary edition of the DVD contains content that, unfortunately, was not provided for review, including:
Introduction Director Todd Stephens

Commentary with Director Todd Stephens & Producer Jesse Adams

Unscripted interview with Todd Stephens & Michael Carbonaro

Staged Script Reading

Nancy Sinatra's Making of Another Gay Sunshine Gay Day

Pillow Talk with Grampa Muffler

Original Audition Tapes

Michael Carbonaro Interview


"Another Gay Movie - Director's Cut" is available now on DVD and VOD.
Comments on Facebook