Review: This 4K Edition of 'The Good, the Bad, and the Ugly' is Definitive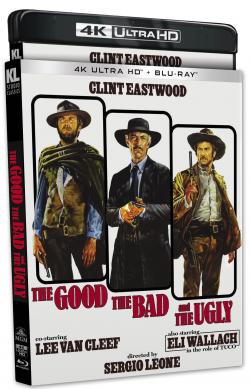 So much has been written about Sergio Leone that it's a bit worthless to even attempt to bring new appraisals of his films to the fore, yet the power of his work and the importance of his contributions to cinema is anything but lost. Every single time you watch a film of his, you tend to find something new or slyly trenchant in his oeuvre that sidesteps and deepens your connection to filmmaking in general.

"The Good, the Bad and the Ugly" is no exception to the rule, as its bluster and mix of myth and realism still cuts deeper than any other western ever made. Kino Lorber and their Studio Classics label brings Leone's masterpiece to 4K Ultra HD Blu-ray with a terrific new 4K transfer with extensive color grading that makes the film look better than it ever has at home. Even with the lack of HDR included with the 4K presentation, this release is a stunner and emboldens all of the classic sequences in the film in ways that will leave you in awe. This is the definitive release of Leone's masterpiece.

"The Good, the Bad and the Ugly" follows Blondie (Clint Eastwood), Tuco (Eli Wallach), and Angel Eyes (Lee Van Cleef) as they rush to find a fortune in Confederate gold while the Civil War rages on in the background.

There's quite the controversy surrounding Kino Lorber's 2017 release of "The Good, the Bad and the Ugly," as it was derided for overcorrecting the 2008 MGM transfer of the film. That's why it's incredible to see that Kino listened to the criticisms and went back to their previous transfer to make even more corrections, yielding a color grade that offers deep color depth and natural film grain. It's also worth noting that the 4K UHD disc only offers the U.S. theatrical cut of the film, while the accompanying Blu-ray offers the extended cut.

As for special features, there's a new commentary by film historian Tim Lucas and all previous features from the 2017 Kino release have been carried over. At the end of the day, it feels like Kino put their all into presenting "The Good, the Bad and the Ugly" correctly in 4K. That should be more than enough for fans everywhere, even with the lack of HDR.


"The Good, the Bad and the Ugly" is available on 4K Blu-ray and Blu-ray from Kino Lorber Studio Classics now.
Comments on Facebook