Review: 'The Railway Children' is Part Fairy Tale, Part Morality Tale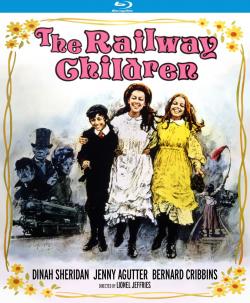 "The Railway Children" is a most beloved British film that was nominated for three 1970 BAFTA awards, and was recently named one of the top 100 British films of the 20th century by the British Film Institute. The movie isn't as well known in the States, but hopefully Kino's exquisite Blu-ray release will change that.
Based on the 1906 children's novel by E. Nesbit, and written and directed by the celebrated actor Lionel Jeffries, the film is seen mostly through the POV of the Waterbury children, Bobbie (Jenny Agutter), Phyllis (Sally Thomsett), and Peter (Gary Warren), and their upper middle-class family. One dark day their father is taken away, the reasons shrouded in mystery. Impoverished, they are soon forced to relocate to a remote cottage in an area near a railway station with their writer mother (the formidable Dinah Sheridan). But despite the new and potentially dire circumstances, the children find themselves embroiled in fantastical adventures which lead them to brave and life-saving actions.
This enchanting, atmospheric film is part fairy tale, part morality lesson, and all heart.
Agutter, who would go on to appear in "Logan's Run," "Equus," and "An American Werewolf in London," is splendid, but it is Bernard Cribbins (BAFTA Supporting Actor nomination) who steals all his scenes as the stubborn but loving station porter, Perks.
Sure, the film is heartwarming, but not in a sticky-icky way.
The visuals look quite good on the Blu-ray (there's a lot of green), and the DTS-HD Master audio sounds fine, although I did find myself putting on the subtitles a few times (probably more because of the Brit accents).
The Blu-ray extras include the trailer, as well as an entertaining audio commentary by historian Paul Anthony Nelson. He provides several interesting tidbits, including the fact that Agutter was actually younger than the Thomsett, despite the fact that she was playing the elder sister.
"The Railway Children" is a film that creeps under your skin and charms you to such a degree that you wish you could continue following the antics of these kids.
And speaking of...
Strangely, a sequel titled, "The Railway Children Return" has begun filming in Oakworth (the original location), and is scheduled to be released in 2022. It only took 50 years.
Blu-ray Extras Include:
New Audio Commentary by Filmmaker and Film Historian Paul Anthony Nelson

Theatrical Trailer


"The Railway Children" is available on blu-ray from Kino Lorber June 15, 2021.
Frank J. Avella is a film and theatre journalist and is thrilled to be writing for EDGE. He also contributes to Awards Daily and is the GALECA East Coast Rep. Frank is a recipient of a 2019 International Writers Retreat Residency at Arte Studio Ginestrelle (Assisi, Italy), a 2018 Bogliasco Foundation Fellowship, a 2016 Helene Wurlitzer Residency Grant and a 2015 NJ State Arts Council Fellowship Award. He is an award-winning screenwriter and playwright (CONSENT, LURED, SCREW THE COW, FIG JAM, VATICAN FALLS) and a proud member of the Dramatists Guild.
https://filmfreeway.com/FrankAvella
https://muckrack.com/fjaklute
Comments on Facebook