The Bourne Ultimatum
As usual, "The Bourne Ultimatum" has little to do with its Robert Ludlum source material - and thank goodness for that. The third chapter penned by the prolific author was a lackluster conclusion to a spy-chases-spy thriller franchise that, in its first two installments, proved to be among Ludlum's best work. Fortunately, Tony Gilroy and Paul Greengrass (who brought us the thrilling last chapter of the movie trilogy) know how to encapsulate what's great about Bourne's genesis: government corruption leading to sanctioned, undercover, relentless killing as the solution to the world's problems, with one amnesiac defector from the program - Bourne - attempting to find his identity and set things right.

Here, Greengrass sends Jason Bourne (Matt Damon) home at last, his emotional ties and old scores settled for good or ill in "The Bourne Supremacy." Now, he's on the hunt to find out who re-programmed him to kill. A clue arrives courtesy of a London journalist, and Bourne rushes to investigate. Unfortunately, Treadstone (the covert operation that robbed his memory) has been reborn as Operation Blackbriar, whose chain of command passes through the CIA's cadre of morally bankrupt supervisors, starting with Noah Vosen (David Strathairn) and ultimately resting on chief Ezra Kramer (Scott Glenn). Along the way, the conspiracy chews up Pam Landy (Joan Allen), whose history with Bourne makes her - armed with the country's best technologists - most likely to snare him.

But Bourne wasn't "born" yesterday, and his determination to find the truth drives the stakes high. A series of incredibly thrilling chases dominates the film, including a low-volume, heart-pounding sequence in London's Waterloo Station, an extraordinarily long but visually arresting chase through the rooftops of Tangier, and potentially the most destructive car chase through the streets of Manhattan we've seen in recent years. Along the way, Bourne reestablishes contact with operative Nicky Parsons (Julia Stiles), deals with countless baddies, and manages to retain a semblance of his trademark new-found morality.

Bourne seems to be nearly Damon's alterego, so well does the character fit. Were it not for Damon's sexy combination of intelligence, physicality, insolence and heart, the character simply wouldn't have captured attention over three films. The rest of the cast is equally good; although Stiles has relatively little to do, she plays her character's complex relationship with Bourne well, and Strathairn and Allen deliver well-executed foils as the two CIA agents who cannot agree on whether to bring Bourne in, or callously order his execution in the field.

Behind the camera, Greengrass quietly cements his reputation as an A-list action director. Although I occasionally wished he'd just put his camera on the sticks, his on-the-shoulder shooting, combined with quick editing, makes for gloriously high tension. Nobody is better at this than Greengrass. During the sequence in Tangier, I actually considered the fact that the fight had been going on for quite a length of time - but was so caught up in the action that I wasn't disenchanted by the fact that it was consuming time which in other movies might have been better served with plot. In this film, the action is very much the story; as proof, Greengrass culminates the battle with an all-out fistfight in an abandoned bathroom, where guns and knives are traded for elbows, knees, porcelain and towels.

The "Bourne" films are terrific examples of how, with the right creative team in place over a period of time, Hollywood can produce multiple increasingly well-crafted films arching over a single character and/or story spine. Each "Bourne" film has successively increased the stakes, the pace, the tension and the emotional impact of the story. We're entirely unsure if there's to be a fourth film in the franchise; but if there's not, Jason Bourne's going out in real style.
The Bourne Ultimatum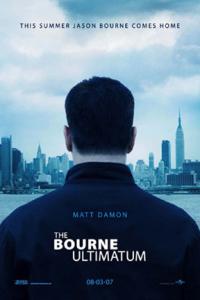 Info
Runtime :: 115 mins
Release Date :: Aug 03, 2007
Language :: English
Country :: United States

David Foucher is the CEO of the EDGE Media Network and Pride Labs LLC, is a member of the National Lesbian & Gay Journalist Association, and is accredited with the Online Society of Film Critics. David lives with his daughter in Dedham MA.
Comments on Facebook