Review: 'Urban Cowboy - 40th Anniversary' Gives the Gay Gaze a Fresh Look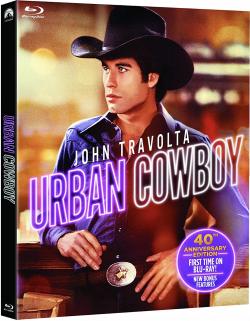 "Urban Cowboy" was released in theaters on June 6, 1980, and was an immediate sensation.
James Bridges co-wrote and directed the critically and commercially successful hit "The China Syndrome," one of the best films of the 1970s, and certainly one of the most eerily prophetic films of any decade. His prior credits included "The Baby Maker," "The Paper Chase," and "September 30, 1955." His follow up to "China Syndrome" was "Urban Cowboy," his biggest monetary success. Bridges would only direct three more films, none hits, before succumbing to intestinal cancer in 1993 at the age of 57.
John Travolta was riding a career-high in the late '70s after strutting his stuff to an Oscar nomination and setting cultural trends in "Saturday Night Fever," as well as singing, dancing and romancing Olivia Newton-John the following year in the blockbuster musical "Grease." He had one career misstep with the abysmal "Moment by Moment," but "Urban Cowboy" put him back on top — if only for a Hollywood moment.
Debra Winger was a relative unknown. She appeared in "Thank God It's Friday" and portrayed Wonder Woman's sister on TV, but "Urban Cowboy" birthed her as a bona fide star (and she was double Golden Globe nommed). Ironically, Bridges had to fight Paramount for her inclusion. She would go on to make "An Officer and a Gentleman" and "Terms of Endearment" and receive back to back Oscar nominations. Her second collaboration with Bridges, "Mike's Murder" (1984), proved a disappointment, and her career, like Travolta's, would take a nosedive shortly thereafter.
But something sorta magical happened when Bridges, Travolta, and Winger came together 40 years ago. Of course, the impressive soundtrack didn't hurt, including as it does the ridiculously catchy "Looking for Love" by Johnny Lee and Boz Skaggs' powerful ballad, "Love Look What You've Done to Me."
Does the film hold up today? Yes. And no. Is it a worthwhile sit? No. And yes.
The paper-thin screenplay, based on an Esquire article by Aaron Latham (and credited to Latham and Bridges), centers on Bud (Travolta), a young Texan who leaves his family farm to work in a Houston refinery and play at the local watering hole, Gilley's, a popular, cowboy-wannabe-infested bar/hangout that's filled with lots of booze, brawls, sexual energy, and country music-infused mayhem. In this good ol' boy milieu, Bud meets feisty Sissy (Winger) and shortly after their first hookup and first fight, they decide to do the most logical thing: Get married. And, almost as fast, they split up and couple with new bedmates. The rest of the plot, which boasts many mechanical bull scenes, is basically how they find their way back to one another. (And how good Scott Glenn looks in a see-through black T-shirt.)
Most of the running time is spent inside Gilley's, atop the mechanical bull (or so it seems), something the club acquires to try and quell the constant fisticuffs these fake "urban" cowboys get into after a few too many. Much of the dialogue is either negligible, incomprehensible, or just banal (and perhaps that's the point). Even the sparks between Travolta and Winger are few and far between, especially since they spend most of the running time avoiding one another.
Scenes of domestic violence (Winger gets smacked around by both Travolta and Glenn) are treated as just another matter-of-fact moment in a life filled with humiliations and compromises, highlighting just how much things have changed in what we see as acceptable in our culture (at least on the surface, because we all know violence against women is still as omnipresent and pervasive as it's always been).
Observed strictly on the surface, "Urban Cowboy" could easily be dismissed as a silly rom-com about who can last the longest on a mechanical bull. At first, I found myself wincing and rolling my eyes at the gaggle of pig-headed rednecks onscreen — but then I began to look deeper at this depiction of these working-class Houston folk who, like the Brooklyn kids in "Saturday Night Fever," live for the weekend (and sometimes nightly) respite that takes them away from their excruciating days at the mill or the shop or fill-in-the-working-class job blank. Alienated and exhausted, they're just trying to give themselves a break from their difficult and humdrum lives.
And this is something Bridges excelled at, presenting the working Joe (and Jane) both at work and at play, thick-skulled warts and all, without judgment. And letting the audience soak in the atmosphere. Some will recognize it as similar to their own daily grind and nightly haven. Others will experience something unfamiliar, but real. It's too facile and judgy to dismiss Bud and Sissy as trailer park trash — just like it's too easy to see the Scott Glenn character as a complete villain. All three are trying to survive, day to day, the best way they know how.
One other thing that struck me hard is the homoerotic content in the film. Bridges was a gay man, and he knew how to pepper the background with pretty cowboys in tight jeans — sorta-rough trade eye candy. He also knew how to lovingly film his leading man — which he would double down on in the unfairly maligned 1985 film "Perfect." Just how his camera lingers on Travolta gives new meaning to the notion of the gay gaze (one particular scene involving JT's naked leg is just too erotic for words). And on that subject, Scott Glenn, with his killer pecs and nefarious but alluring smirk, sets the screen a smokin'. When the two come together, well, suffice to say that there were times I wondered if these two nemeses were going to fight or fuck.
I have to commend Paramount for a Blu-ray transfer that perfectly captures the visual grittiness of Bud's blue-collar world (cinematography by Ray Villalobos), and an audio transfer that nicely showcases the then-wildly popular country music soundtrack.
The Special Features are disappointing, considering this is the film's 40th-anniversary edition. They include a 15-minute doc, "Good Times with Gilley, Looking Back at Urban Cowboy," where the country singer and bar owner reminisces about his own club, and how filming "UC" there greatly impacted his revenue for years to come. There are also a few Deleted Scenes and a paltry selection of Outtakes and Rehearsal Footage. Couldn't Paramount cough up some money and hunt down any of the actors for an interview?
This film is recommended for Travolta fans, anyone with a Winger fascination, country music aficionados, curious gay men, and those who may have a time capsule interest in what was popular at the very beginning of what would come to be known as the Reagan decade.

"Urban Cowboy"
40th Anniversary Blu-ray
$14.96
https://www.amazon.com/Urban-Cowboy-Blu-ray-Digital-Travolta/dp/B0863S4QCK
Frank J. Avella is a film and theatre journalist and is thrilled to be writing for EDGE. He also contributes to Awards Daily and is the GALECA East Coast Rep. Frank is a recipient of a 2019 International Writers Retreat Residency at Arte Studio Ginestrelle (Assisi, Italy), a 2018 Bogliasco Foundation Fellowship, a 2016 Helene Wurlitzer Residency Grant and a 2015 NJ State Arts Council Fellowship Award. He is an award-winning screenwriter and playwright (CONSENT, LURED, SCREW THE COW, FIG JAM, VATICAN FALLS) and a proud member of the Dramatists Guild.
https://filmfreeway.com/FrankAvella
https://muckrack.com/fjaklute
Comments on Facebook