Review: 'Death On The Nile' an All-Star Romp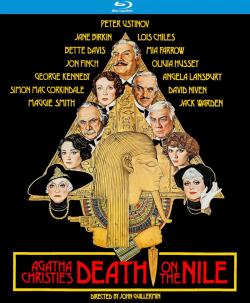 Sidney Lumet's "Murder on the Orient Express," with a screenplay by Paul Dehn, was and still is the seminal and definitive Agatha Christie adaptation. Every incarnation of the venerable novelist's work that preceded or followed the all-star 1974 masterpiece cannot escape comparison. "Orient Express" worked so well because of a perfect blend of high drama with sly satire, all keeping in spirit with Christie's work. And the Mount Rushmore cast included Albert Finney, Lauren Bacall, Ingrid Bergman (who won her third Oscar for her role), Sean Connery, and Vanessa Redgrave, to name but a few! It is said it was the only film adaptation of Christie's work that she was pleased with. (She died in 1976.) In terms of popularity, "Orient Express" became the highest grossing British film of all time.
Two years later EMI and the producers of "Orient Express" teamed up again to bring "Death on the Nile" to the screen, under the direction of John Guillermin ("The Towering Inferno," "King Kong"), with a screenplay by Anthony Shaffer ("Frenzy," "Sleuth"). Finney was asked to reprise his Oscar-nominated role for the follow up but was either unavailable or refused (conflicting accounts), so the producers decided to cast outside the box with two-time Oscar-winner Peter Ustinov.
As would be expected, they assembled another all-star cast — not quite as impressive as the one for "Orient Express," but formidable nonetheless — that included Bette Davis, Mia Farrow, David Niven, Maggie Smith, Jack Warden, Angela Lansbury, and Jon Finch.
The plot involves an investigation into the murder of a much-hated heiress (Lois Chiles). World renowned detective Hercule Poirot (Ustinov) is the one looking into the crime, and doing so while on a boat trip down the Nile in 1932. Everyone on board appears to have had a motive to kill the woman, and it is up to the brilliant Poirot to utilize his sleuthing skills and solve the crime in his customary final assemblage of the surviving suspects. (Incidentally, the 16 suspects in the book have been whittled to nine for the film.)
Ustinov's Poirot is a bit stuffy (can't help comparisons to the genius Finney). He loosens up some when we get to "Evil Under the Sun." His performance did receive a BAFTA nomination.
The supporting actors are mostly wonderful, if sometimes oddly cast (Warden as a German? And George Kennedy with that angry American accent?). Tart-tongued Smith, always a hoot, was nominated for a BAFTA, as was a scenery chewing Lansbury. You can almost see Oscar-chaser Davis seethe as Lansbury marvelously camps it up.
Simon MacCorkindale provides awesome eye candy for women and gay men. The brooding Finch is a different, and more intense, kind of handsome.
But — and I say this grudgingly, since I'm not a fan of Mia the human being — Farrow delivers the film's most complex and cleverly chilling performance as Jacqueline, the victim's former best friend. Farrow's career is, ironically, highlighted by her mostly great work with Woody Allen (specifically in "Purple Rose of Cairo" in 1985 and "Alice" in 1990), as well as Roman Polanski's "Rosemary's Baby." She plays whackjobs very well. Here, she's called on to perform a mean acting hat trick, and does so superbly.
Kino Lorber's Blu-ray provides a lovely restoration of the gorgeously-realized film, and preserves the lavish production design by Peter Murton, terrific camerawork by the venerable Jack Cardiff, and period-perfect costumes by Anthony Powell, who won the Oscar.
The DTS-HD MA 2.0 mix audio sounds clean and clear, with no noticeable hiss.
Nino Rota's excellent score is, strangely, a tad too reminiscent of the main theme from "The Poseidon Adventure" by John Williams, but it is quite effective.
Special Features include a vintage 23-minute "Making of" that includes interviews with Ustinov, Niven, Finch and Kennedy. There are two brief, quite odd, interviews with Ustinov and fellow cast member Jane Birkin for Spanish TV. There's also a host of trailers (including the teaser and original theatrical). Finally, the disc boasts a fun and informative Audio Commentary by film historians Howard S. Berger, Steve Mitchell, and Nathaniel Thompson.
"Death on the Nile" is an admirable addition to the Christie-on-film canon with a cast of game, if sometimes hammy, actors and just the right amount of murder, mystery and mayhem.

"Death on the Nile" Special Edition
Blu-ray
$17.97
https://www.kinolorber.com/film/death-on-the-nile-special-edition
Frank J. Avella is a film and theatre journalist and is thrilled to be writing for EDGE. He is also a proud Dramatists Guild member and a recipient of a 2018 Bogliasco Foundation Fellowship. He was awarded a 2015 Fellowship Award from the NJ State Council on the Arts, the 2016 Helene Wurlitzer Residency Grant and the Chesley/Bumbalo Foundation Playwright Award for his play Consent, which was also a 2012 semifinalist for the O'Neill. His play, Vatican Falls, took part in the 2017 Planet Connections Festivity and Frank was nominated for Outstanding Playwriting. Lured was a semifinalist for the 2018 O'Neill and received a 2018 Arch and Bruce Brown Foundation Grant. Lured will premiere in 2018 in NYC and 2019 in Rome, Italy. LuredThePlay.com
Comments on Facebook