Iron Man 2
Watching "Iron Man 2" is a little like taxiing in a plane - you definitely feel the g-force rush, but you nevertheless know you haven't left the ground. Robert Downey Jr. is in fine form, and he's brought a new, star-studded cast along for the ride: Samuel L. Jackson, Mickey Rourke, Scarlet Johansson, Sam Rockwell, Don Cheadle, and even Garry Shandling. Not to mention love interest Gwyneth Paltrow. It makes for a bundle of fun that effectively combines humor, CGI and metal-on-metal action, and if the movie feels like it's little more than a setup for the franchise's future, at least it's a wild ride.

The film takes off shortly after the first ended, with Iron Man flying high - his home-grown world peacemaker the envy of corporate competitor Justin Hammer (Rockwell), friend and military colonel "Rhodey" Rhodes (Cheadle) and even a sniveling US Senator (Shandling). Of course, Tony Start (Downey Jr.) ain't giving up the suit easily - especially when he desperately needs it to foil new baddy Ivan Vanko (Rourke), who has a old bone to pick with Stark - and the muscles, tattoos, and technology to pick it. Confusing the issue are man-with-a-plan Nick Fury (Jackson, who reprises a role from a post-credits scene in the first film) and his sexy right hand girl Natasha Romanoff (Johansson), who - as comic book aficionados know - are agents in the espionage agency S.H.I.E.L.D.

We'll hear more from S.H.I.E.L.D. later (as in later Avenger movies) - which is part of what makes "Iron Man 2" feel like a franchise set up. Jackson and Johansson have significant roles to play in this film, but their presence barely moves the plot along; and in a film with this many characters, they represent an unnecessary weakness.

Stranger still is a cameo by John Slattery as Tony Stark's father and the posthumous assistance provided to his son via film clips and an oversized three-dimensional map of a "city of tomorrow." Disney fans will immediately recognize the reference: it's an absolutely intentional homage to Walt, the film almost precisely emulating Disney's presentation of EPCOT on television in the 1970s. The implications of Tony Stark having Walt Disney as a father aside, it's another curious sidestep to an otherwise fairly linear storyline.

The film truly belongs to Downey Jr. and Rourke. Downey Jr. alternatively copes with his character's faults in pensive moments and chews the scenery with comic bliss; a lesser actor certainly would not be able to pull it off. And Rourke offers up what the first film lacked: a charismatic enemy for Iron Man. The rest of the characters are mostly along for the ride.

And you should be, too. Director Jon Favreau keeps the action hot and the CGI hotter; if the movie starts at a pensive pace (it has much to set up in the first half hour), it wastes no time cantering to a gallop as soon as Vanko, wielding electric whips, attacks Stark on a race track - an event that the narcissistic and seemingly impervious Stark definitely does not see coming. When Vanko teams up with money man Hammer, it spells trouble for our self-absorbed hero. And great fun for us.

For many, the story will lack the staying power of the original "Iron Man" - and it's difficult to argue the point. But "Iron Man 2" is a worthy successor nonetheless; it's lost none of its original hip and swagger, and it's even dead funny at times. It's not perfect, but who cares. It's Iron Man. Come along for the ride.
Iron Man 2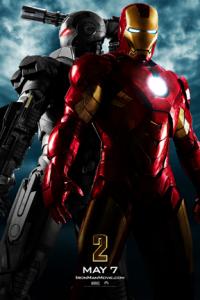 Info
Runtime :: 124 mins
Release Date :: May 07, 2010
Language :: English
Country :: United States

David Foucher is the CEO of the EDGE Media Network and Pride Labs LLC, is a member of the National Lesbian & Gay Journalist Association, and is accredited with the Online Society of Film Critics. David lives with his daughter in Dedham MA.
Comments on Facebook