Australia
What happened to Baz Luhrmann? He has not given us a film since 2001's startlingly effective "Moulin Rouge," an instant classic that told a period story of forbidden love via modern music. And his prior films - "Romeo and Juliet" and "Strictly Ballroom" - were equally inventive in their fanciful use of cinema for purposes of entertainment. And so, as I stepped into a darkened theatre to watch Australia, I was anticipating another whimsical, emotional, creative outburst from this visionary director. Instead, Luhrmann has delivered an overlong, pedestrian epic - elegant, simple, haunting and grounded.

Any Hollywood director might have conceived this overwrought approach and cobbled together this moderately successful flick, pulling overtly at heartstrings in an over-obvious effort to educate audiences about the abusive missionary policies of Australia circa World War II. As a stereotypical saga, it's reasonably entertaining. Coming from Luhrmann, it's a huge disappointment.

The story begins with a cliché: prim, uptight Englishwoman Lady Sarah Ashley (Nicole Kidman) heads to Australia to bring her wayward husband home - only to find, once she arrives, that he's been murdered in a local cattle-driving turf war. Any sane person would dump the ranch and fly home, especially with a war imminent. Not Lady Sarah - she sets out to drive her herd of cattle to the port of Darwin in order to raise enough funds to save her new homestead. In doing so, she engages local rancher Drover (Hugh Jackman), enrages competitors King Carney (Bryan Brown) and Neil Fletcher (David Wenham), and saves half-Aborigine orphan Nullah (Brandon Walters) from missionary entrapment.

There's the real message: the unfortunate aboriginal plight during this time period in Australia saw mixed-race children "encouraged" from their homes to be placed in missions and raised by white Christians. How a story in which a white woman protects a mixed-race child from this fate is meant to effectively vilify the practice is quite beyond me (and Philip Noyce's 2002 soul crusher "Rabbit-Proof Fence" covered the ground quite thoroughly); nevertheless, "Australia" manages to bring to light the plight of these orphans in a relatively meaningful way, most clearly evident when the Japanese bomb the settlement.

Kidman and Jackman have an awkward chemistry, but they're both superb actors who manage to instill stereotypical characters with subtlety and an innate likability. Secondary performances are also a treat, most notably Wenham, who simply drips evil intentions in every crooked smile. And yes, Jackman drops his shirt on a few occasions, and it's enjoyable.

But it doesn't change the fact that Lurhmann's inventiveness seems to have been replaced with self-indulgence. Every one of his central characters in the past has been afflicted with unfortunate circumstances - even terminal disease. But Lurhmann's compellingly bright direction reminds us that we can sing and dance even when life throws us its worst. In "Australia," he's traded his usual cup of optimism for a cup of bitters, complete with an unfrothy reduction to the absolute mundane.
Australia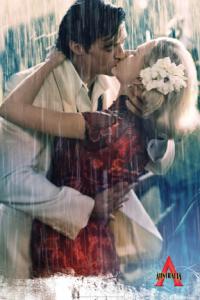 Info
Runtime :: 165 mins
Release Date :: Nov 26, 2008
Language :: English
Country :: United States

David Foucher is the CEO of the EDGE Media Network and Pride Labs LLC, is a member of the National Lesbian & Gay Journalist Association, and is accredited with the Online Society of Film Critics. David lives with his daughter in Dedham MA.
Comments on Facebook