Review: 'One Night In Miami...' Offers More Than Oscar Buzz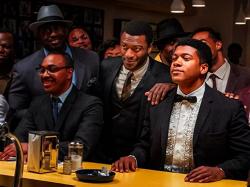 "One Night in Miami" is a movie of headlines. Its characters are known entities so large that they loom over the proceedings like a billboard on an abandoned road. Its subject matter is diverse, with a weight so large that it splays far outside of its own time period. It is a movie that shouts its intention to run house on the impending awards season before even a frame flickers across the screen. It is a movie that your mom wants to see, a movie that your dad wants to talk about, a movie that your younger sibling bristles at due to its historical trappings. All of this without a single word being spoken.

And yet, these are a description of perceptions, of expectations, and not of the film itself. "One Night in Miami" is a movie that is happy to accept these pre-celebrations, but has its sights set on something far more intimate.

It is February 25, 1964 in humid Miami, Florida. Cassius Clay just defeated Sonny Liston, making him the new heavyweight boxing champion of the world. NFL superstar Jim Brown celebrates ringside, one of the fight commentators, excited to see Clay take the win. Equally jubilant in the audience are activist Malcolm X and musician Sam Cooke. Full of happiness and excitement, the four men, each at differing stages of their own legendary careers, come together in a nearby hotel room.

The film is based on a play of the same name from Kemp Powers, and director Regina King has the daunting task of transforming the stage play into something cinematic. "One Night in Miami," a story made up of small rooms and big conversations, is something that feels made specifically for the stage. The screenplay, adapted by Powers himself, still feels like a play, but longtime actress King subtly makes it into something else. Collaborating with cinematographer Tami Reiker, she removes one of the most basic elements of the theater: Distance.

In theater, the stage sits far from the audience, immovable and formidable. King smashes this distance with gusto. We are brought into the room with the four legends, not an onlooker, but an actual inhabitant of this unexceptional hotel room. We can hear the door creak, feel the overly-starched bed spreads, and smell the lingering mildew. The conversations remain the same, large treatises on race, religion, life, death, and the role of celebrity in activism. But rather than it being the monologues of mythical beings, King gives it the intimacy of friends chatting. It is ever so subtle, done in close shots that linger on the smallest reactions, but it elevates the material to something better.

The cast reflects this intimacy, admittedly to different extents. Eli Goree's Cassius Clay is almost a caricature, amused by his own beauty and possessing a confidence that only comes with your early 20s. Alternatively, Kingsley Ben-Adir's Malcolm X is far meeker than we have become accustomed to seeing the figure on screen. His Malcolm is a man at a crossroads, making plans for a future that he isn't sure he'll get to see. It is a performance that strips the podium away from the civil rights leader and attempts to show a more rounded picture of the man, rather than the myth. It's an unexpected performance that goes far in highlighting the human element of those that we place on pedestals. Aldis Hodge and Leslie Odom Jr. nestle comfortably into their respective roles, which is no small feat, especially considering how smoothly Odom captures Cooke's untouchable vocals.

While a majority of the film takes place in one location, King recognizes the strength of her setting and colors the Miami of 1964 with every shade that is available. Whether at the Miami Convention Center, the luxurious Fontainebleau, the far more humble Hampton Hotel, or a nearby liquor store, King and Reiker are keen to revel in the period. The art deco architecture, the muted yet colorful fashion, and the cars - it's all there, building a world that feels almost alien in its differences from our current one.

"One Night in Miami" is positioned as a piece of awards season fodder, and for good reason. The story of four Black legends ruminating on the issues of the time is just as vital and relevant today as it would've been in the 1960s. But the film is more than simple Oscar bait. Under the guidance of first-time narrative feature director Regina King, it isn't as grandiose or as pandering as the "bait" moniker would have you believe. King's "One Night in Miami" is a movie about friendship and support as much as it is about race.

"One Night in Miami" still possesses all of the trappings necessary to reap armloads of awards, but underneath the preconceptions and headlines is an intimate story of four men. King creates a space where the characters are able to strip away their costumes of celebrity and delve into the far more human elements of life.

"One Night in Miami" opens in select theaters Dec. 25 and on Prime Video on Jan. 15, 2021.
Comments on Facebook