How To Train Your Dragon
It takes a third of the movie to realize it, but "How to Train Your Dragon" exudes similarities with its two directors' more famous animated flick, "Lilo and Stitch." Chris Sanders and Dean DeBlois, in that earlier film, winningly told the story of an awkward youngster befriending a dangerous but equally lonesome creature. Here, the story revolves around the ancient antagonism between Vikings and dragons - but the two central characters show as much pluck and earnest likability as did the titular characters in the Disney film. And ultimately, "How to Train Your Dragon" is equally enjoyable.

The protagonist is the Viking youngster Hiccup Horrendous Haddock the Third (Jay Baruchel), who lives in the small, isolated village of Berk. The village is quaint, but has a serious problem: it's surrounded by craggy mountains in which live a myriad of lethal dragons. During an attack by the fiery beasts, Hiccup defies the orders of his father, village leader Stoick (Gerard Butler) and runs amok in an attempt to kill a beast. He successfully downs one of them, but upon finding the creature in the woods beyond the village, encounters not a vicious killer but a young dragon who's just as scared as Hiccup during the encounter. This commonality instigates a bond between the two, and Hiccup finds himself in the uncomfortable situation of simultaneously training to kill dragons in the company of would-be girlfriend Astrid America Ferrer) while earning the trust and affection of his new friend.

It takes twenty minutes until we meet Toothless, the intrepid dragon who befriends Hiccup; until then, while the imagery and action sequences keep us engaged, we're still adrift without a real spine to the story. Once Toothless appears, however, you'll perk right up; not only is the little black dragon simply adorable, he's a whimsically unintentional comedian as well. Hiccup is equally well realized, which regrettably is a feature in stark contrast to the rest of the Vikings, who tend to be drawn as burly, somewhat dull individuals. Moreover, in this type of film, the usual vehicle for misfits folding back into the larger group is a common enemy - and in "How to Train Your Dragon" the relevant device is introduced late and lacks true creativity. It works, but just barely.

Technologically, the film shines. I must admit that, curiously, Paramount did not screen the film for Boston in 3-D, so I cannot comment on the added dimension audiences might discover therein. However, the extended action sequences - including some truly inspiring flying scenes - are absolutely immersive. And I cannot say that I've ever seen animated treatments of natural elements - water, fire - so beautifully realized on the screen. Occasionally, the voice performances disassociate themselves with the visuals (usually in Baruchel's case, perhaps due to his distinct delivery), but in general the visual experience of the film is delightful.

I'd hesitate to call "How to Train Your Dragon" the best film of the year thus far, but it certainly is in the running - and as far as animated features go, it's the most entertaining flick I've seen in a long time. Take the kids, or just take a date - the warmhearted enchantment this film casts will brighten your day.
How to Train Your Dragon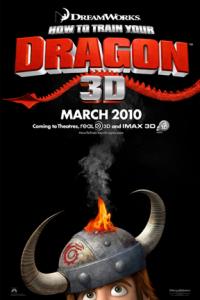 Hiccup (Jay Baruchel) is a Norse teenager from the island of Berk, where fighting dragons is a way of life. His progressive views and weird sense of humor make him a misfit, despite the fact that his father (Gerard Butler) is chief of the clan. Tossed into dragon-fighting school, he endeavors to prove himself as a true Viking, but when he befriends an injured dragon he names Toothless, he has the chance to plot a new course for his people's future.
Info
Runtime :: 98 mins
Release Date :: Mar 26, 2010
Language :: Silent
Country :: United States

Cast
Voice of Hiccup :: Jay Baruchel
Voice of King Stoick the Vast :: Gerard Butler
Voice of Astrid :: America Ferrera
Voice of Snotlout :: Jonah Hill
Voice of Fishlegs :: Christopher Mintz-Plasse
Voice of Gobber :: Craig Ferguson
Voice of Ruffnut :: Kristen Wiig
Voice of Tuffnut :: T.J. Miller

Crew
Director :: Chris Sanders
Director :: Dean DeBlois
Screenwriter :: Chris Sanders
Screenwriter :: Dean DeBlois
Producer :: Bonnie Arnold
Executive Producer :: Kristine Belson
Executive Producer :: Tim Johnson
Production Design :: Kathy Altieri
Art Director :: Pierre-Olivier Vincent
Film Editor :: Darren Holmes
Film Editor :: Maryann Brandon
Original Music :: John Powell
Casting :: Leslee Feldman

David Foucher is the CEO of the EDGE Media Network and Pride Labs LLC, is a member of the National Lesbian & Gay Journalist Association, and is accredited with the Online Society of Film Critics. David lives with his daughter in Dedham MA.
Comments on Facebook