Bolt
With the CGI treat Bolt, Disney is suddenly giving Pixar a run for its money. That sounds strange, given that they're part of the same larger team with regard to film distribution. But up to this point, no animation studio has come close to the heady blend of superior digital animation, quirky humor and pure excellence in storytelling that Pixar exemplifies.

A digital hamster is about to change all that.

Bolt (John Travolta) is a dog (not a hamster) whose life is filled with danger, intrigue and unequalled dedication to his human Penny (Miley Cyrus). That's because he's the unwitting action star of a popular television show, and has no idea that the world in which he has been given superpowers is fabricated for the viewers. But when the network insists for the first time on a cliffhanger between episodes (forcing a separation between Bolt and Penny until the second episode can be filmed), Bolt doesn't take kindly to it. He escapes in an effort to find Penny, who he thinks remains in mortal danger - and accidentally gets shipped to New York.

There he encounters a sour-puss named Mittens (a cat, not a hamster) who, according to the lexicon of Bolt's television experience, must be in league with the evil "Green-Eyed Man" (Malcolm McDowell) who has captured his Penny. He conscripts her forcibly to his cause and sets out in search of his human, shortly encountering (at last) Rhino the hamster (Mark Walton), an eager fan of Bolt's show who tags along to help the cause courtesy of his plastic roly-ball. Together they redefine what it means to be a hero.

The premise of the film is a bit far-fetched (pun intended). It's as unlikely that television producers would go out of their way to convince a dog that television is real in order to get a more emotive performance as it is that Bolt would buy into such a fabrication long-term. Kids will forgive this shortcoming; we big folk less so. And repetitively during the film, the pace stumbles and plateaus - this is the film's most significant problem.

But its heart is absolutely in the right place, and Walton's performance as Rhino keeps the laughs so infectious you'll soon forget about the snoozy first third of the film. And once Mittens begins to help Bolt understand that a dog's real superpowers lie in the simple pleasures he brings to humans by being just a dog, you'll want to run right out and adopt something furry (like a dog... or a hamster). A few additional touches keep the film from losing steam, particularly a repetitive bit with pigeons that is beyond hysterical.

The technical aspects of the animation - visuals, movement, facial animation - are on par with the best of breed; and if you can get to a 3-D cinema to see the film, you'll appreciate the non-invasive way the animators have utilized the technology.

Ultimately, "Bolt" is the dog to beat at the children's box office - and I'll bet that hamster sales will rise precipitously over the holidays (something akin to "The Dalmatian Effect"). But don't let that scare you: if you have kids, take them to this flick. And if you don't, go anyway - you'll still laugh your ass off (and stand up and beg for more).
Bolt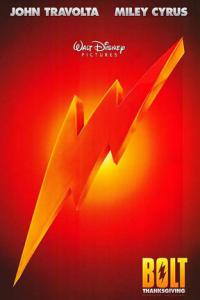 Info
Runtime :: 96 mins
Release Date :: Nov 21, 2008
Language :: English
Country :: United States

David Foucher is the CEO of the EDGE Media Network and Pride Labs LLC, is a member of the National Lesbian & Gay Journalist Association, and is accredited with the Online Society of Film Critics. David lives with his daughter in Dedham MA.
Comments on Facebook