A Serious Man
Unless you're a die-hard Coen fan, you'll likely leave the theatre after seeing "A Serious Man" wanting to seek out the respected brothers and beat them about the head and shoulders. That is, after all, the typical reaction a Coen brothers film generates, once the screen has cut to black in the middle of a human drama, leaving questions unanswered and protagonists hanging in the proverbial wind. That's what you can expect from this film; but you can also expect a consequential dissertation on the imbalance of fortune told through wonderfully realized characters whose foibles are as hysterical as their lives are pedantic. It makes for a real "slice of life" - a crisp exploration of a particularly interesting period of time in the existence of a Jewish man enduring unusual trials that neither completely resolves nor is emotionally unfulfilling.

"A Serious Man" is about bad things happening to good people - and after a brief telling of a Jewish folktale that underscores that premise and sets up the emotional tone of the film, we're off to the 1960s Midwest, where Larry Gopnik (Michael Stuhlbarg) is pursuing a well-organized, mathematically-ordered life: well-paid college physics professor up for tenure, wife and two reasonably well-adjusted kids, with a bar mitzvah for his youngest imminent. That is, until one of his disgruntled students attempts to sue him for defamation, his wife announces that she wants a divorce, his brother goes mental, and his pot-smoking son inadvertently instigates creditor calls from Columbia Record Club.

Unable to compute the drastic shifts his life has suffered, Larry turns to the usual vices: sex, drugs and Rabbis. He finds little to help him restore balance to his existence apart from platitudes sung by Jefferson Airplane via his son's portable radio; and that's as it ought to be. The Coen brothers seem enchanted not only by life's inherent imbalances that favor random individuals over others, but also by a comic appreciation of fate's timing. And the film is absolutely funny: there's a certain amount of laughter and empathy already to be found in the story of an overly mechanized Jewish man living in the 1960s, caught between tradition and modernization, but an effusive cast and creative team help etch the tale with enough pathos and style that it will likely resonate with even those from drastically different economic or religious backgrounds.

The Coens, far from merely torturing their modern-day Job from their unforgiving, indiscriminately nihilistic philosophic perch, are endeared by the relentless hopelessness of the human condition. For many, "A Serious Man" might feel like a cosmic "fuck you." The Coens might not admit their intentions one way or the other, but this film is too lovingly crafted to be a simple emotional flip-off. Ultimately, it suggests that we might as well get used to the fact that life is unfair and horrible - with the worst always yet to come - and that smiling is a great way to do so.
A Serious Man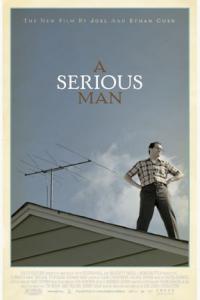 Larry Gopnik (Michael Stuhlbarg) is a physics professor at a 1960s university, but his life is coming apart at the seams. His wife (Sari Lennick) is leaving him, his jobless brother (Richard Kind) has moved in, and someone is trying to sabotage his chances for tenure. Larry seeks advice from three different rabbis, but whether anyone can help him overcome his many afflictions remains to be seen.
Info
Runtime :: 105 mins
Release Date :: Jan 08, 2010
Language :: Silent
Country :: United States

Cast
Larry Gopnik :: Michael Stuhlbarg
Uncle Arthur :: Richard Kind
Sy Ableman :: Fred Melamed
Judith Gopnik :: Sari Lennick
Danny Gopnik :: Aaron Wolff
Sarah Gopnik :: Jessica McManus
Mrs. Samski :: Amy Landecker
Mr. Brandt :: Peter Breitmayer
Mitch Brandt :: Brent Braunschweig
Clive Park :: David Kang
Rabbi Marshak :: Alan Mandell
Rabbi Nachtner :: George Wyner
Rabbi Scott :: Simon Helberg
Divorce Lawyer :: Adam Arkin
Dybbuk :: Fyvush Finkel

Crew
Director :: Joel Coen
Director :: Ethan Coen
Director :: Joel Coen
Director :: Ethan Coen
Director :: Joel Coen
Director :: Ethan Coen
Executive Producer :: Tim Bevan
Executive Producer :: Eric Fellner
Executive Producer :: Robert Graf
Cinematographer :: Roger Deakins
Production Design :: Jess Gonchor
Costume Designer :: Mary Zophres
Original Music :: Carter Burwell
Casting :: Ellen Chenoweth
Casting :: Rachel Tenner
Set Decoration :: Nancy Haigh
Art Director :: Deborah Jensen

David Foucher is the CEO of the EDGE Media Network and Pride Labs LLC, is a member of the National Lesbian & Gay Journalist Association, and is accredited with the Online Society of Film Critics. David lives with his daughter in Dedham MA.
Comments on Facebook