Where The Wild Things Are
The problem with "Where the Wild Things Are" can be explained in 339 words. That's the length of the original book, spanning 33 pages of illustrations and documenting one boy's processing of rage - and even at just around 100 minutes, a full-length translation of Maurice Sendak's beloved children's tale is awkward at best. For sure, Spike Jonze piled (for the most part) the right emotional experience into the visuals and character performances; and even the odd combination of fuzzy, oversized costumes and CGI faces on the creatures in the film blends beautifully into the warm embrace of Jonze's organic vision. But the plot is simply stretched too thin, and the resulting film lags in pacing to an unfortunate degree; sad to say, "Where the Wild Things Are" is, shy of its beginning and end, rather boring to watch.

Most of us know the story already: Max (Max Records), is a lonely, apprehensive kid who, after antagonizing his mother by running wild around the house in his wolf pajamas, acts out by inventing a mystical land, accessible only by boat, where he can escape his troubles. There he encounters a group of mercurial monsters - Carol (voiced by James Gandolfini), Judith (Catherine O'Hara), Ira (Forest Whitaker), K.W. (Lauren Ambrose), Douglas (Chris Cooper), and Alexander (Paul Dano). Pronouncing himself their king, he sets out to create a happy family; but instead is forced to put up with their constant bickering and bouts of anger and jealousy. The experience makes him better comprehend the imbalances of his own behavior, and sends him back home for dinner (although I could swear in this version he returns for cake.)

The film is appropriately ethereal; Jonze paints his celluloid canvas with searing deserts, wild forests, and raging seas - all metaphors for the untamed emotions of imminent puberty. The wild things, played crisply by Gandolfini, O'Hara et al, are realized in the same effective combination of fuzzy and frightening that was the hallmark of Sendak's work. And Records holds up under the constant pressure of being the only human on screen for the great majority of the picture.

In fact, an engorged introduction to Max's fantasy trip works quite well; the intricate relationship between him and his mother (beautifully played by Catherine Keener) is well-scripted, and Max's frustration with his sister's burgeoning adulthood keenly adds to his feelings of isolation. It's when we're forced to endure more than an hour with the wild things that Sendak's wisp of a plot leaves the sails breezeless. Jonze and co-writer Dave Eggers do their best, adding complex relationships to the monster's peculiar little circle and playing out themes of childhood and adolescence within their interactions. But the authors managed to send the film careering off-balance; while there are two moments of pure fun (the wild rumpus and a game of mud-slinging), for the most part the monsters come off as neurotic, distrustful, and downright depressed. They're supposed to represent childish wonder and frustration both - but largely they just deflate the film of joy. Ultimately, watching this cheerless little group quibble just gets tiring.
Where the Wild Things Are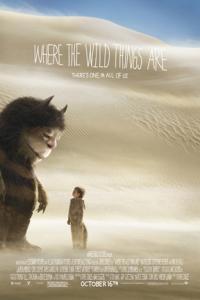 Feeling misunderstood at home and at school, mischievous Max (Max Records) escapes to the land of the Wild Things, majestic -- and sometimes fierce -- creatures. They allow Max to become their leader, and he promises to create a kingdom where everyone will be happy. However, Max soon finds that being king is not easy and that, even being with the Wild Things, there is something missing.
Info
Runtime :: 101 mins
Release Date :: Oct 16, 2009
Language :: Silent
Country :: United States

Cast
Mom :: Catherine Keener
Max :: Max Records
Boyfriend :: Mark Ruffalo
Voice of Carol :: James Gandolfini
Voice of KW :: Lauren Ambrose
Voice of Douglas :: Chris Cooper
Voice of Ira :: Forest Whitaker
Voice of Alexander :: Paul Dano

Crew
Director :: Spike Jonze
Screenwriter :: Spike Jonze
Screenwriter :: Dave Eggers
Producer :: Tom Hanks
Producer :: Gary Goetzman
Producer :: Maurice Sendak
Producer :: John Carls
Producer :: Vincent Landay
Executive Producer :: Thomas Tull
Executive Producer :: Jon Jashni
Executive Producer :: Bruce Berman
Cinematographer :: Lance Acord
Production Design :: K.K. Barrett
Film Editor :: Eric Zumbrunnen
Costume Designer :: Casey Storm
Original Music :: Karen O
Original Music :: Carter Burwell

David Foucher is the CEO of the EDGE Media Network and Pride Labs LLC, is a member of the National Lesbian & Gay Journalist Association, and is accredited with the Online Society of Film Critics. David lives with his daughter in Dedham MA.
Comments on Facebook