Jack Reacher
I hesitate to begin the review of Tom Cruise's new film "Jack Reacher" with a warning. The problem is that I really liked this film, but there is an aspect about it that should be acknowledged. You see, I really didn't have much interest in Cruise's latest based on the popular books by Lee Child. It seemed as though it would just be another vehicle for the actor to show us what a cool tough-guy he is and I simply expected a lot of fancy hand-to-hand combat and not much else.

Thankfully I was wrong. "Jack Reacher" is written and filmed with cool panache. Cruise himself isn't in that annoying mode where he's all humorless swagger. Here he is kind of funny (in an unruffled swaggery kind of way) and he creates an intriguing character. The problem for audiences will simply and unfortunately be a timing thing.
We, as a nation, are still reeling and sensitive to the issues of unnecessary violence and the issues surrounding guns because of the horrific events of last week. When a movie opens with a sniper killing five innocent random people walking through a park - one of whom is a 6 year old girl - well, it hits a little too close to home. There is also a scene where a lawyer goes to talk to a grieving father of one of the victims; and as the investigation into the reasons for the shooting gets more complicated, the incident is shown from a few different angles. Thankfully, the killing of the young girl and her caretaker is not directly shown, but the implication is still there.

So whether you want to put yourself through that is up to you. Personally, I would have delayed the release of the movie until the Spring. Because the rub here is that it's a really well-made film. It reminded me of Michael Mann's "Collateral Damage" and even a little bit of the Ryan Gosling film "Drive."

Tom Cruise plays Jack Reacher, an ex-military who lives his life completely off the grid. The reasons for this aren't exactly spelled out, but we do know that he is a man who always does the right thing, has a preternatural ability to figure out complex problems, and knows how to take down a gang of five with just his bare hands. So when the murder of the five people is reported on the news, he takes notice.
And when the suspect in custody writes "Get Jack Reacher" on a piece of paper, things get curious. Before District Attorney Rodin (Richard Jenkins) and Detective Emerson (David Oyelowo) can even start to look for this phantom named Reacher, Reacher actually shows up asking what he can do.

Eventually, Jack teams up with the lawyer assigned to the suspect: a woman named Helen (played by Rosamunde Pike), who also happens to be the District Attorney's estranged daughter. The pair try to figure out what exactly happened the day of the shooting and why some of the details don't make sense, including why the suspect actually put a quarter in the parking meter before taking his shot. The plot gets thicker with number of characters that come in and out of the film, such as a young vixen named Sandy (subtly funny Alexia Fast) and a group of thugs that try to take Jack out in the bathroom of a house, but fail miserably (and hilariously). There's even a guest appearance by acclaimed documentary filmmaker Werner Herzog who is effectively creepy as a mysterious man called The Zec.
All of this makes for a surprisingly engaging mystery/thriller skillfully directed by screenwriter Christopher McQuarrie who also adapted the screenplay from Child's book "One Shot." Only his second film (his first was the little-seen indie "The Way of the Gun" in 2000), McQuarrie proves he has as much skill behind the camera as he does on the written page. (He won an Oscar for his script for "The Usual Suspects," and also wrote Cruise's "Valkyrie," as well as the upcoming Hugh Jackman thriller "The Wolverine.") He makes interesting choices such as forgoing music in a key car chase, which is also masterfully executed, and allows cinematographer Caleb Deschanel to film the action with a cool and slick look.

Opening scene aside, "Jack Reacher" is worth a look. It has wit. It's engaging. It's funny. And it's probably Tom Cruise's most appealing character in a while. (While "Mission Impossible 4" was terrific, he was fairly humorless making his character a bit of a drag.) Here he is engaging and smart and doesn't overdo the usual Cruise theatrics. The film makes a case for Jack Reacher getting a franchise of his own. At the very least, this first film allows McQuarrie to show off an engaging style.
Jack Reacher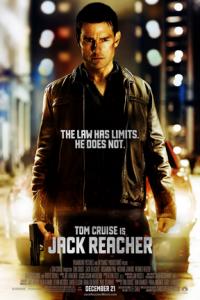 Info
Runtime :: 130 mins
Release Date :: Dec 21, 2012
Language :: English
Country :: United States

Kevin Taft is a screenwriter/critic living in Los Angeles with an unnatural attachment to 'Star Wars' and the desire to be adopted by Steven Spielberg.
Comments on Facebook