Joker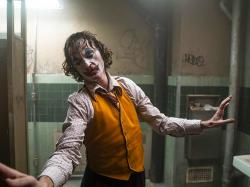 Available digitally today!
- - -
Put on a happy face!
Director Todd Phillips immediately transports the audience — somewhere, some when else — though it's not into the predictably anticipated comic book world of Gotham City, certainly not like any Gotham City that film goers have become familiar with. In the opening minutes of "Joker," his film — based on the DC Comics super-villain, Batman's arch nemesis and the infamous Clown Prince of Crime — it's evident (and a smart choice) to suggest that the city toils in a depravity, not unlike New York City in the 1970s.
Amid the knocked-over trash bins and adult theater marquees dotting the underbelly of the high-reaching metal and concrete skyscrapers, taxi cabs zig-zag their way through crowded streets. Pedestrians hustle their way, skipping over oily puddles as steam floats out over every manhole cover.
There's a culture war afoot, where the "haves" reign over the "have-nots" and crime and chaos are rampant. In the middle of it all, Arthur Fleck (Joaquin Phoenix) is struggling to find his place, although he and those like him are largely set aside or abused by the system. With everything stacked against him, Fleck is still working to keep it all together. He works a lowly existence as a clown for hire, taking great pride and care in the application of his makeup and costume. Arthur shows up for work every day, is diligent in his duties, and yet is still reviled.
He becomes the victim of an attack by a cadre of street thugs, but carries on. He makes all his meeting with his social worker, keeping up with the appointments in order to get access to his medications (Fleck is on at least seven, most of which are meant to help him with an unfortunate mental condition: Fleck suffers from an uncontrollable reaction that causes him to burst into laughter at the most inappropriate times. It happens without warning, and usually when he becomes stressed or nervous. The only solace he finds is in the care of his mother.
Arthur affectionately feeds her and bathes her; he dotes over her optimism. She keeps promising that they'll soon be rescued from their poverty. She's expecting a letter from mayoral candidate Thomas Wayne (Brett Cullen), whom she expects will "save them all." The letter isn't coming, and ultimately time is running out — for Arthur Fleck, especially. After a series of unfortunate events, Fleck's path down the rabbit hole of his own insanity becomes inevitable, and it isn't long before he starts to put the pieces back together to fit the way he sees things.
This is a dark journey into a man's psychosis; it's not a story about redemption — there is nothing redeeming about The Joker. The villain accepts and fully realizes his own warped, chaos-riddled existence, and revels in the violence he inspires. Joaquin Phoenix's movements and physicality are what will set his interpretation of the DC comics villain apart from his predecessors, especially as role defining a turn as was taken by Heath Ledger — a tough act to follow for sure, but the extent to which Phoenix has lived in The Joker's skin goes deeper than the whiteface makeup.
The Joker has been so expertly crafted in cinema over the years that entirely devoting a film to the character could be conceived as dangerously self-aggrandizing. Phillips weaves an interesting "origin story," perfectly capitalizing on all of the character's idioms, but whether it's a good idea to coerce an audience to sit through this story is another question. After all, what is The Joker without the Caped Crusader? Well, this is the answer to that question. Phillips has clearly taken hints from "Taxi Driver" to embolden his film, and chooses a style that works.
"Joker" is a very textured dive into the pits of the madness, apathy, and anarchy that creates this maniacally malicious personality — but there's the danger of identity with this villain. Phillips doesn't work to make The Joker sympathetic, but he gives him a purpose and a platform, at times elevating The Joker into sometime we can all connect with. Fleck says early in the film: "I hope that my death makes more cents (intentionally misspelled) than my life." In fact, his rebirth as The Joker helps him answer that question.
The audience is left to wonder whether or not they needed to be a part of the experience. This is a runaway train that, once it goes off the rails, begins to seductively illustrate its narrative; by then, it's impossible to get off. Visceral, violent, decadent and dark, this "Joker" is definitely wild.
Joker
Forever alone in a crowd, failed comedian Arthur Fleck seeks connection as he walks the streets of Gotham City. Arthur wears two masks -- the one he paints for his day job as a clown, and the guise he projects in a futile attempt to feel like he's part of the world around him. Isolated, bullied and disregarded by society, Fleck begins a slow descent into madness as he transforms into the criminal mastermind known as the Joker.
Info
Runtime :: 122 mins
Release Date :: Oct 04, 2019
Language :: Silent
Country :: Canada

Cast
Arthur Fleck :: Joaquin Phoenix
Murray Franklin :: Robert De Niro
Sophie Dumond :: Zazie Beetz
Penny Fleck :: Frances Conroy
Thomas Wayne :: Brett Cullen
Detective Burke :: Shea Whigham
Detective Garrity :: Bill Camp
Randall :: Glenn Fleshler
Gary :: Leigh Gill
Hoyt Vaughn :: Josh Pais
GiGi Dumond :: Rocco Luna
Gene Ufland :: Marc Maron
Dr. Sally :: Sondra James
Alfred Pennyworth :: Douglas Hodge
Bruce Wayne :: Dante Pereira-Olson
Martha Wayne :: Carrie Putrello
Social Worker :: Sharon Washington
Young Penny :: Hannah Gross
Dr. Stoner :: Frank Wood
Carl (Arkham Clerk) :: Brian Henry
Arkham Psychiatrist :: April Grace

Crew
Director :: Todd Phillips
Screenwriter :: Todd Phillips
Screenwriter :: Scott Silver
Producer :: Todd Phillips
Producer :: Bradley Cooper
Producer :: Emma Tillinger Koskoff
Executive Producer :: Michael Uslan
Executive Producer :: Walter Hamada
Executive Producer :: Aaron Gilbert
Executive Producer :: Joseph Garner
Executive Producer :: Richard Baratta
Executive Producer :: Bruce Berman
Cinematographer :: Lawrence Sher
Film Editor :: Jeff Groth
Original Music :: Hildur Guðnadóttir
Production Design :: Mark Friedberg
Art Director :: Laura Ballinger Gardner
Set Decoration :: Kris Moran
Costume Designer :: Mark Bridges
Casting :: Shayna Markowitz

Native New Yorker JC Alvarez is a pop-culture enthusiast and the nightlife chronicler of the club scene and its celebrity denizens from coast-to-coast. He is the on-air host of the nationally syndicated radio show "Out Loud & Live!" and is also on the panel of the local-access talk show "Talking About".
Comments on Facebook