Review: 'The Carole Lombard Collection 2' Showcases One of The Best Female Actors to Emerge From Silent Films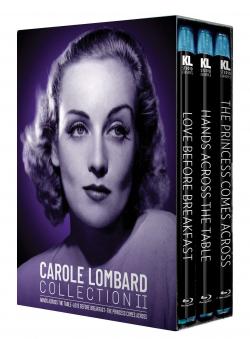 Carole Lombard, like Jean Harlow, was a truly gifted cinematic artist, with great comic chops, who died way too young (at the age of 33, in a plane crash).
She did amass a stunning 78 credits, according to IMDB — many silent shorts — in her brief life. If your intro to her work is via Kino Lorber's "Carole Lombard Collection II" Blu-ray, her presence onscreen may not initially feel seismic...follow up with "My Man Godfrey" and "To Be or Not To Be" and you might find yourself obsessed.
As it happened with Harlow a few years back, I am now immersing myself in the films of Lombard. I applaud these Kino Lorber box sets for setting me on this enriching (if expensive) journey. Keep them coming!
This particular collection includes three lesser-known 1930s titles. All three films in this second Kino set (the first included "Fast and Loose," "Man of the World," and "No Man of Her Own") were offered in a 2006 DVD Collection released by Universal called "Carole Lombard — The Glamour Collection."
While I cannot compare the two, these new 2K Mastered Blu-rays offer excellent visual transfer with little of the hiss so often heard on sound films from this era.
The best, hands down, is "Hands Across the Table," the first of four films she starred in with Fred MacMurray (looking quite dashing and exuding lots of charisma). The chemistry between them is unmistakable; it's easy to see why moviegoers wanted more of this screen pairing.
Lombard is a manicurist searching for a rich husband. MacMurray plays a playboy son of affluence whose family lost all their money in the crash, so he is engaged to a wealthy woman he doesn't love. And although they fight it, our couple fall in love.
The wonderful Ralph Bellamy (Oscar nominated for "The Awful Truth") appears as a man in a wheelchair who also carries a torch for Lombard. I wish the film explored that option more. Alas, it was 1935! Strangely, the role anticipates his portrayal of FDR in "Sunrise at Campobello," "The Winds of War," and "War and Remembrance."
The film's heart and soul is, of course Lombard, who is absolutely beguiling but also exudes a genuine warmth. We seem to know long before she does that she's not a gold-digger, although it is fun watching her try to convince MacMurray that she is. And as much as I was captivated by her scenes with MacMurray, I enjoyed her with Bellamy just as much.
Directed with great flair by Mitchell Leisen ("Easy Living" and "Midnight"), "Hands" was written by Norman Krasna, Vincent Lawrence and Herbert Fields — although many other scribes have been said to have contributed, including Dorothy Parker.
William Demarest (future Uncle Charlie to "My Three Sons" patriarch MacMurray) appears in a brief but hilarious cameo.
This gem should be included with films like "Bringing Up Baby" and "His Girl Friday" when discussing screwball comedies. At the time of release, Andre Sennwald, writing for the New York Times, called the film "an uproariously funny romantic comedy, with a brilliant screen play," with "some of the best dialogue that has come out of Hollywood in many months."
Lombard's second teaming with MacMurray, one year later, is a lesser effort but still worthwhile. When we first meet Lombard's Swedish Princess, one wonders what the hell is going on with the overdone Garbo accent and manners, but we soon become privy to the fact that this "Princess" is actually an actress-wannabe from Brooklyn.
The film is set aboard an ocean liner, where Lombard becomes involved in a murder mystery that has a really neat twist near the very end. MacMurray (who sings here) is on board as a concertina player (you read that right) who, of course, falls for the princess.
William Frawley (Fred Mertz on "I Love Lucy") adds a dash of his own unmistakable frustration, while Alison Skipworth chews scenery nicely as Lombard's co-conspirator.
Apparently, the film suffered from replacements, from the leading man (originally George Raft), to the director (eventually William K. Howard), to the DP, as well as the fact that way too many writers worked on it, which explains the convoluted plot.
Lastly, Walter Lang's trifle, "Love Before Breakfast" (the silly title anticipates the innocuous narrative), comes alive when Lombard is given a few meaty scenes with her co-star.
The bare and barely-there plot involves business tycoon Preston Foster, so enamored with socialite Lombard that he manipulates things so that her fiancé, played by Cesar Romero, is sent to Japan for two years on business, more than leveling the playing field. Then he woos her. That's basically it.
Sad, because Lombard's initial abhorrence of how Foster is so entitled could have made for a scintillating comedy. Instead, we get static scenes, character about-faces that make little sense, and a forced, facile ending. Throughout, though, the blond bombshell still manages a delightful turn.
The Blu-ray features new commentaries by Allan Arkush and Daniel Kremer on both "Hands" and "Princess." Alexandra Heller-Nicholas and Joshua Nelson provide chatter on "Breakfast." All are fun and loaded with facts about Lombard, like how she turned down "It Happened One Night." There is also a trailer for "Love Before Breakfast" on that disc.
Carole Lombard's lone Oscar nomination was for "My Man Godfrey." One could imagine a slew more had she lived. The best female actors to emerge from silent to sound films and then have vibrant, if topsy-turvy, careers (Dietrich, Swanson, Garbo, to name three) all had one thing in common: originality — something unique and singular about them that enraptured moviegoers. Lombard had that, as well.
"The Carole Lombard Collection 2," a three-disc box set, will be available on April 6.
Frank J. Avella is a film and theatre journalist and is thrilled to be writing for EDGE. He also contributes to Awards Daily and is the GALECA East Coast Rep. Frank is a recipient of a 2019 International Writers Retreat Residency at Arte Studio Ginestrelle (Assisi, Italy), a 2018 Bogliasco Foundation Fellowship, a 2016 Helene Wurlitzer Residency Grant and a 2015 NJ State Arts Council Fellowship Award. He is an award-winning screenwriter and playwright (CONSENT, LURED, SCREW THE COW, FIG JAM, VATICAN FALLS) and a proud member of the Dramatists Guild.
https://filmfreeway.com/FrankAvella
https://muckrack.com/fjaklute
Comments on Facebook