Madame X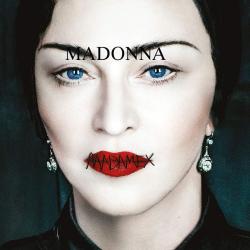 We have a Madonna problem.
By we, I mean the press, music journalists and critics, and the listening public. Our expectations of Madonna are rooted in misogynistic double-standards. She has been a sponge for what we far too often deem outrageous behaviors... that is, by anyone other than heterosexual men. We've also conditioned ourselves, since her emergence in the early 1980s, to be outraged at Madonna. We vilify her for being ambitious, outspoken, successful, rather than celebrating how her artistry engages with the world.
Our latest outrage appears to stem from the fact that Madonna, at age 60, has the audacity to continue creating. Male figures in pop music culture have almost never had to contend with such haranguing about their age and artistry.
Sure, the Rolling Stones have been plagued since 1989 (when they were in their mid-40s for God's sake!) with questions about whether their next tour will be their last. Despite this, their stamina and their continued creative ventures are still celebrated... and that's without having released an album of all new original music since 2005. Note that Madonna has released five original studio albums since then. And then there's the late David Bowie, one of Madonna's biggest influences, and his disappearance from public life for nearly a decade in the mid-2000s. After a while, and at the same age Madonna is now, music rags began publishing articles frantically questioning where Bowie could be when he's desperately needed in a pop culture "so bereft of real ideas." By contrast, and despite a continued creative drive fueled by her engagement with the world, Madonna unfairly remains a cultural punching bag.
Is it because she is a woman who has also continually and aggressively challenged patriarchal dominance, our social constructions of femininity, and misguided expectations of how women should behave? Yes, it is precisely that. It is also worth reminding that Madonna has been part of our cultural fabric for nearly four decades now. So much of the outrage that surrounds her often eclipses an examination of her work. And Madonna has continually provided us a substantial body of work more than worthy of in-depth examination. Whatever our problem is with Madonna, we need to get over it.
Aesthetically, the duality in Madonna's work is her propensity for creating hit singles as well as less commercially viable music. "Madame X" veers largely toward the latter. If this album recalls another in Madonna's catalogue, it would be "Ray of Light" (1998), primarily in the way both albums sustain contemplative electronic-based musical settings that ultimately foreground the lyrics. "Madame X" is certainly the most experimental album she's made since "Ray of Light," or at the very least the unfairly maligned "American Life" (2003). Here, the collaborative nature of Portuguese fado (Madonna resides in Lisbon) and Cape Verdean morna serve as the basis for this album's aesthetic. The electronic settings are often augmented with percussion, violin, accordion, and call and response vocals. The collaborative nature also extends to the album's guests. Colombian artist Maluma features on two tracks (the first single "Medellín" and later on "Bitch I'm Loca"); American rappers Quavo and Swae Lee appear on "Future" and "Crave," respectively; and Brazilian artist Anitta joins on "Faz Gostoso."
French house producer Mirwais ("Music" from 2000 and the previously mentioned "American Life") and Mike Dean (2015's "Rebel Heart") are Madonna's main collaborators on "Madame X." Jeff Bhasker, Billboard, and Diplo drop in on occasional tracks as well. A reigned-in production team allows for the album to retain a consistent feel from start to finish — and this contrasts with "Rebel Heart," which felt severely unfocused perhaps as a consequence of its revolving door of collaborators.
Musically, Madonna's vocal melodies here are often austere and uncomplicated, with repeated phrases (usually in the chorus sections), and this renders the album with a more contemplative tone even in its more uptempo moments. That is perhaps the point, as Madonna merges the personal, political and spiritual, often in the course of a single song, to appeal to both our heads and our hearts. Self-referential moments ("I bent my knees for you like a prayer" in "Crazy") and humor (in "Bitch I'm Loca," Maluma inquires "where do you want me to put this?" and Madonna responds with a wink "you can put it inside") are judiciously placed, providing a necessary multi-dimensionality to an album that explores archetypes. This also keeps "Madame X" from becoming a far-too-serious affair.
In that regard, Madonna also embraces eccentricity and, in a few instances, camp. For instance, on the album highlight "Dark Ballet," Madonna takes aim at both religious hypocrisy and a godless society ("your world's obsessed with fame") over an initially minor-key piano-centered piece that gives way to a sample of "The Nutcracker." It stands as one of the oddest and truly inspired moments in her catalogue thus far. In true Madonna fashion, commenting isn't enough; in a spoken word segment on top of the Tchaikovsky sample, we become her co-conspirators in an inevitable uprising: "they are so naïve, they think we are not aware of their crimes; we know but we are just not ready to act; the storm isn't in the air, it's inside of us." The political implications are strong — especially in light of the consequences Madonna suffered for her comments on the last Presidential election at the 2017 Women's March in Washington DC.
Similarly, "God Control" begins as a piano-centered ballad that gives way to a throbbing disco track. Initially, the song's message is quite direct: "Everybody knows the damn truth, our nation lied, we lost respect." The solution? Go about daily life ("get the kids ready, take them to school") while trying to contend with the disruptions caused by the stubborn inability of DC in addressing school shootings and gun control: People want "a decent job, to have a normal life" while the powers that be "talk reforms...pretend to help," the only solution offered is that "they say that we need more love." Madonna captures both the anger and resignation that are commonplace in today's discourse on mass shootings and gun control: "I think I understand why people get a gun, I think I understand why we all give up." And from here, thoughts are repeated, cut up, turned inside out, all in an effort to make sense of the madness. Toward the end, Madonna intones that "we've lost God control" before the repeated "wake up" at the song's close. The suggestion here is, faith and rational thinking should not be mutually exclusive — but they are in a society that views faith and the second amendment as hand-in-glove.
Much like Bono, Madonna has also never shied away from shameless platitudes — among other examples, "Love Makes the World Go 'Round" from her 1986 album "True Blue," and her live cover version of John Lennon's "Imagine" in 2004, before which she implored us to "please listen to the words of this next song." However, throughout "Madame X," Madonna deploys such commonplace truisms in strategic ways. In "Future," another album highlight, Madonna drops the lines "just free your mind" and "we can light up the dark, everyone has a spark" in a song resigned to the idea that ignorance and intolerance will not be overcome: "Not everyone is coming to the future," and furthermore not everyone is capable of doing so. As such, it feels as though Madonna and Quavo are speaking to those of us working toward social justice and spiritual enlightenment.
Both "Come Alive" and "I Don't Search I Find" draw upon similar themes, wherein the former Madonna sings "they say we're like Vietnam and all I want is peace" and in the latter, she's "found peace, I found a new view, I found you." The difference between the two songs resides in Madonna's direct dressing-down of a subject (perhaps her critics!) in "Come Alive." Over the top of synthesized mbira and percussion, Madonna reasserts individuality: "Stand out — no, I don't want to blend in; why you want me to?" The "you" in "I Don't Search I Find," one of the few overt dance tracks on the album, is much more ambiguous, even esoteric as she expresses affinity with another kindred outcast: "it's our gypsy blood, we live between life and death." Is Madonna addressing a friend, a lover, a fellow artist, an activist, perhaps God... or maybe all of the above? And when she sings "there's no rest for us in this world, finally enough love," the artfully subtle implication is that love might make the world go 'round if we are conscious of its impact through our work and actions.
"Madame X" gets into a little trouble with the otherwise beautiful "Killers Who Are Partying." Awkward title aside, the suggestion of who these killers are is never made clear. That isn't to say that art needs to announce itself without ambiguity. But the issue is compounded by lyrics in which Madonna aligns with the oppressed in ways that problematically deflect her position of privilege as wealthy, white, heterosexual and Western — "I will be gay if the gays are burned...I'll be Islam if Islam is hated," and so on. When Madonna sings "I'll be a woman if she's raped and her heart is breaking," the suggestion is that privilege is overcome by affinity, which is far too simplistic. Still, one wonders if perhaps that is Madonna's point.
On the whole, "Madame X" isn't simply a satisfying Madonna album. There is a nuance and complexity deployed throughout and that is the album's greatest strength. Rather than making grand statements, Madonna raises questions about the transformative power of anger, frustration, resignation, redemption, and love on both our intellectual awareness and spiritual wellbeing. "Madame X" is among Madonna's strongest, most challenging and rewarding works.

"Madame X"
by Madonna
$9.99 (digital), $11.99 (deluxe digital album), $13.98 (CD), $35.98 (2-disc vinyl)
Madonna's Official Store
Kevin Schattenkirk is an ethnomusicologist and pop music aficionado.
Comments on Facebook