Review: 'Love Goes' Explores Pop, but Sticks Close to Home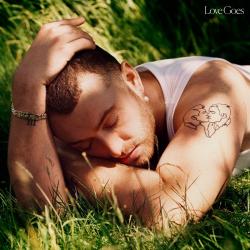 British singer Sam Smith has described their third studio album, "Love Goes," as exploring pop. The word "pop" is an interesting descriptor here because it's confusing: Does "pop" pertain to some of the album's more uptempo moments, most of which front-load the album? Or does it pertain to the generalities of the lyrical content, specifically tailored to hooks and choruses to reel listeners in? Overall, nothing here veers too far from familiar Smith territory — emotive ballads.

Following the heavily auto-tuned "Young," a staggering a cappella performance that really didn't need such electronic enhancements, "Diamonds," "Another One," and "Dance ('Til You Love Someone Else)" head to the dancefloor. In particular, "Another One" contains swirling synth flourishes right out of the disco era, which lends warmth and charm to the musical backdrop. Slowing the tempo ever so slightly, "My Oasis" (featuring Burna Boy) and "So Serious" skew toward moodier mid-tempo pop.

Otherwise, the album's last half treads familiar Smith territory. "For the Lover That I Lost" and "Forgive Myself" are tender piano-centered ballads, while "Breaking Hearts" and "Love Goes" are augmented with synths and loops. The latter has a charming sort of Vampire Weekend-styled musical backdrop and chorus melody. Album closer "Kids Again" shamelessly — and effectively — peddles 1970s acoustic guitar-based singer/songwriter fare.

But too often throughout the album, the lyrics are often where things go awry. Thematically, the album explores heartbreak and incorporates more queer elements — deriving from the end of a relationship and Smith's coming out as non-binary. Both of these aspects are potent for an exploration of identity and sense of self ultimately fleshed out in cursory terms. "Another One" begins to probe denial and self-protection in the wake of learning your ex has found somebody new, but stops short of a deeper examination of those feelings. Similarly, the dysfunctional couple in the title track (a duet with Labrinth) speaks only in general "I'm fucked up, no you're fucked up" terms, sacrificing no nuance or complexity that could give the song more emotional resonance. "Forgive Myself" trades in general self-help, as in: How can I love someone else if I can't...

In terms of vocal performances, Smith's voice is certainly distinct — its dark, rich hue containing shades of Boy George's soulful tenderness but with the dynamic range and power of the late George Michael — and certainly fits this material. Musically, "Love Goes" is largely pleasant, though it could have benefited from more uptempo tunes spread out between the slower jams. The end result feels like a peak-period Celine Dion album: A collection of mostly slow, and a clutch of faster, songs primarily designed to showcase Smith's vocal chops. And that's fine for pop. But some more blood and guts — exhibiting a greater vulnerability and reflection — would have been welcome, elevating these songs from merely good pop.


"Love Goes," by Sam Smith, was released on Sept. 17.
Kevin Schattenkirk is an ethnomusicologist and pop music aficionado.
Comments on Facebook