Watch: Mark Ronson Says He Identifies as Sapiosexual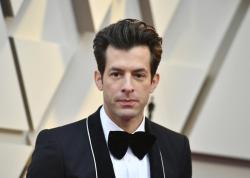 On a segment with "Good Morning Britain," Grammy Award-winning producer Mark Ronson revealed that he identifies as "sapiosexual."

The label is used to describe people who are attracted to the intellect of others. According to Ronson, he wasn't aware of the term until overhearing a debate about the term backstage on "Good Morning."

Ronson was on the show discussing his new heartbreak album, "Late Night Feelings" when the backstage discussion came up again. Host Kate Garraway mentioned: "Now we know you are single, and Mark has got very involved in our debate backstage."

"We were all arguing backstage in the dressing room," Ronson said. "With a couple of your producers. And yes I feel like I am identifying as sapiosexual."

"So you are coming out as sapiosexual," co-host Ben Shephard said. "This is great news! Congratulations. Especially post the heartbreak."

The Sun adds that "while on the show Mark shared an exclusive clip of his new video for the track 'Don't Leave Me Lonely' featuring vocals from Yebba."

Dr. Diana Raab Ph.D. from Psychology Today adds that the word "sapiosexual" stems from "the term 'sapiens,' which means wise or judicious..."

"Those who are sapiosexual are stimulated or challenged by the way another person thinks," Raab adds. "They are basically in love with the mind. Sometimes, sapiosexual individuals have also been called 'nymphobrainiacs,' or individuals who find it arousing to engage with the intellectual perspective of another person."

Watch the clip of Ronson's segment on "Good Morning Britain" below.
Comments on Facebook