Watch: A New and Sexy (!) 'Stranger Things 3' Teaser has Arrived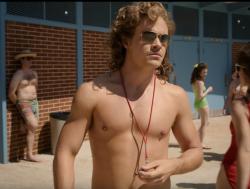 It may be a few more months before the third installment of Netflix's highly anticipated "Stranger Things" returns but the streaming shared a new teaser for upcoming season.

Titled "Summer in Hawkins" — that is Hawkins, Indiana where the show takes place — the 105 second clip takes place in the peak of summer in 1985. School is out and things are heating up for this sci-fi thriller: The clip plays out at a public pool over a synth-y soundtrack but...nothing spooky happens!

The clip comes just two months after Netflix dropped an official trailer, which you can watch by clicking here.

Check out the new sexy teaser below.
Comments on Facebook