Review: Peele and Kinberg's 'The Twilight Zone' Hits Its Stride in Season Two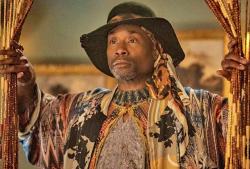 When Jordan Peele was chosen to shepherd a new version of Rod Serling's classic 1959 - 1964 anthology series "The Twilight Zone" back to television for a third reboot — following the 1985 version, which ran for three seasons, and the 2002 effort, which only ran for one — a sense of hopeful expectation hung in the air. Peele, after all, seemed to have the same talent for mixing social commentary, humor, and chills that Serling's work had exemplified.
But Season One of the new "The Twilight Zone" rubbed many fans of the original the wrong way. Some gripes were absurd — a minority wanted the new episodes to be filmed in black and white, as the original series run had been — while others were all too well-earned, especially when it came to the running time of the episodes (which sometimes felt padded) and the way the new series took on social issues (let's just say "on the nose" is an apt characterization).
Still, there were standouts in the ten episodes that comprised the first season of the new "Zone," and CBS showed great faith in Peele and his co-creator, Simon Kinberg, when they quickly renewed the show for a second season.
Based on the three episodes made available for review, Season Two is a step up — and a step deeper into the realm of the classic Twilight Zone. It's impossible to say whether these episodes are intended to be the "first" three of the new ten installments or if they represent a cherry-picked, carefully curated cross-section of the new season's motifs; in a way, the question is moot, since all of Season Two is slated to drop at the streaming service on June 25. But they do offer a wide range of storytelling approaches and genres, all of them fitting into the new season's over-arcing themes of "identity" and "introspection."
"Meet in the Middle," starring "Westworld" Season One regular Jimmi Simpson, is the story of Phil, a lonely guy living in Ashford City. Phil can't find a love connection and has to endure bad dates until, all of a sudden, he starts hearing a woman's voice in his head. Both Phil and Annie — the woman whose thoughts he's hearing — freak out, but as they get accustomed to the odd situation they begin to have some fun with it. Eventually, a romance of sorts blossoms and they begin to flirt with the idea of meeting in a town that lies midway between Ashford City and Diamond Falls, where Annie lives. But will Annie, assuming she turns out to be anything more than a voice in Phil's own mind, be the same person Phil has fallen in love with? Or is love destined to be proven an illusion conjured by yearning hearts and neurochemical imbalances? This being the Twilight Zone, you know there's going to be a surprise in store for Phil, but will the viewer also be caught off guard? Or will we have guessed the ending?
That's a perennial problem for any new iteration of "The Twilight Zone," which is fondly remembered for its ingenious twists. The thing is, once you have the expectation of a twist, you're looking for it throughout each episode... unless, that is, the writers and directors have enough inventiveness, enough ideas, and enough energy to keep you off-balance and absorbed in the story minute by minute. "Meet in the Middle" doesn't quite pull that off (though Simpson and Jacobs pour enough rom-com charm and diabolical suspense into their roles to keep you guessing).
"The Who of You," however, starts off at a sprint and sizzles its way through its run time. Ethan Embry stars as Harry, an actor whose career has stalled — until he inadvertently discovers he has the ability to jump into other people's bodies, a trick that presents opportunities but also brings complication upon complication into his life, not the least of which is how he's going to convince his girlfriend Morena that he is who he says he is. (One scene takes special delight in showing Harry rehearse how to sound like his normal self — a case of an actor needing to find a character that is, ironically, himself.)
You don't need narrator Jordan Peele to explain the delicious paradox in an actor discovering his true, corrupt nature by becoming other people, but you do need Billy Porter to swan into the episode with a grandiose flourish and pose the question: "Do you know who you are?" Porter brings a fresh gay vibe to the episode and illustrates how mainstream entertainment can include LGBTQ representation without resorting to mere caricature.
"You Might Also Like..." stars Gretchen Mol as a housewife named Janet Warren, a woman whose life has taken on a dreamlike quality. Is it because she's so obsessed with material belongings and status, her mind seemingly lapsing into hallucinations that play out like commercials? Or does it have something to do with the world-wide introduction of a new product called "the egg," a mysterious offering that's supposedly going to make everyone's problems melt away forever?
"You Might Also Like..." has the verve and left-field audacity of a Darren Morgan script; given that Glen Morgan, Darren's brother, is a producer and writer for this new "Twilight Zone," you might be forgiven for suspecting that the credited writer and director, Osgood Perkins, is a pseudonym for Darren Morgan. In fact, Osgood Perkins is the elder son of "Psycho" actor Anthony Perkins, and if you haven't seen any of his other work, this perfect storm of tongue-in-cheek B-movie sci-fi tropes and social satire is a brilliant place to begin.
Based on these three episodes, Season Two looks to be what we had wanted from last year's inaugural season — a season that was, in some ways, hobbled by its over-arcing query, "What is truth?" Ask a question like that in the age of Trump, and you're bound to end up with the sorts of shows that Season One delivered: Heavy-handed sermons about gun control, racism, immigration, and abuse of high political office that felt right in message but wrong in tone and execution. (The best single episode of Season One, "Six Degrees of Freedom," was a brilliant tale about a small band of astronauts escaping Earth's self-destruction that side-stepped the hectoring of many other Season One installments, but it didn't feel much like a "Twilight Zone" episode.)
These new ventures vary in quality, and which ones land closer to the bull's eye than others will be a topic of debate ("Twilight Zone" fandom is as opinionated and diverse as that for any other beloved franchise), but in some ways the new season looks to be almost more "Twilight Zone" than the original show was. If Season One felt its way around the edges of the storied realm "between light and shadow," these new stories suggest the new series is hitting its stride - and taking a large, welcome step deep into the heart... of The Twilight Zone.

All ten episodes of "The Twilight Zone," Season Two, are streaming now at CBS All Access.
Kilian Melloy serves as EDGE Media Network's Associate Arts Editor and Staff Contributor. His professional memberships include the National Lesbian & Gay Journalists Association, the Boston Online Film Critics Association, The Gay and Lesbian Entertainment Critics Association, and the Boston Theater Critics Association's Elliot Norton Awards Committee.
Comments on Facebook