Review: 'Inside Amy Schumer - The Complete Series' is Comedy for the Ages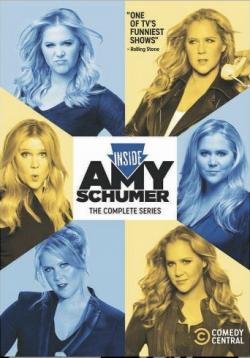 Comedy taboos both compel and revolt us as an enlightened class. We champion edgy humor, as long as some are trying to censor it. We call these comedians raw and honest. Then, when this comedy becomes mainstream, it is we, the progressives, who are the first to cancel it, decry it, and criticize it as tone deaf and insensitive. We seem to love damaged goods and antiheroes, but only in their moment, after that we shame these people for the same indiscretion we once lauded. Anyone who has watched the comedy of Woody Allan or Louis C.K. should not be the least bit surprised by allegations in their personal lives. This things are all over their comedy. But now those names are verboten. They never changed. We did.

Amy Schumer shamelessly jokes about race, rape, AIDS and 9/11. Though she's classified as a feminist, she will never be set next to Susan B. Anthony or Elenor Roosevelt as a champion of women's rights, because her humor is deeply degrading to women. With the release of "Inside Amy Schumer: The Complete Series," all four seasons, now on DVD, we can indulge in some of this comedian's most brilliant moments and ask ourselves if they will stand the test of time.

The show features Schumer in one of four different settings. First, doing stand up comedy before an audience--these are short excerpts taken from a performance before a live audience. (It's what they tried to do on the show "Seinfeld" but never managed as effectively. These clips seem far more authentic.) Second, Schumer and a wide variety of others perform in a number of cleverly written sketches. Though many are regulars, we also see a weath of celebrity guests on the show, like Paul Giamatti who plays God as an ineffectual gay man bowled over by Amy's blatant insensitivity, or Josh Charles in a wicked satire of Aaron Sorkin. The list of guest stars is long and includes Jerry Seinfeld, Liam Neeson, Tina Fey, Steve Buscemi, Jake Gyllenhaal and many more. Third, Amy talks candidly with real people conducting man-on-the-street interviews. And finally, "Amy Goes Deep" formally interviewing an unusual person, generally someone with a novel occupation related to sexuality. The DVD collection has all of this and includes behind-the-scenes interviews and unaired sketches.

Neal Brennan, who directed many of the show's episodes, feels that most people gravitate to the prurient. And the celebrity that Schumer has created is this kind of person in a nutshell. She has surrounded herself with people who can help her promote this image of herself, like executive producer Jessi Klein who is attracted to the star's dirty vulnerability, a quality she calls both "fuckable and funny." Amy is "funny, edgy and easy on the eyes," says another collaborator, Michael Showalter, "and all those things could have been said about Lenny Bruce."

Part of the charm of Schumer's comedy is her cleverly disguised agenda. Consequently you get a range of jokes: from the hardcore trashy--the flat-out lowest common denominator vulgarities--to sketches that make fun of the kind of the audience that just laughed at those jokes, to nuanced and deeply sophisticated satire that will play in the background while the shows audience goes into the kitchen to get a beer or roots around under coffee table, eating up a bowl of spilled corn chips.

It is for this very fact that Amy Schumer is a champion of feminism, because she knocks women off their pedestal, giving them the right to be every bit as disgusting as men.

Though it is inevitable that one day future generations will study Aristophanes' "Lysastrada" next to Schumer's "Finger Banger" sketch, modern audiences can rest assured that even the most erudite Schumer sketch will end in a reference to a bowl movement.

"Inside Amy Schumer: The Complete Series," is now available at http://cbshe.com/InsideAScs .
Comments on Facebook