Top Story
"Queer Eye" returns for its fifth season on Netflix Friday, solidifying itself as some of the best comfort-TV around.
1 thru 10 of 2082 Stories
Earlier this week actor/writer/activist Griffin Matthews published a scathing video about the racism he experienced while producing a musical in Cambridge & NYC, aiming his comments at director Diane Paulus. Paulus responded yesterday.
Actor/writer/activist Griffin Matthews shares his experiences in putting together a new musical that played Cambridge and New York, and how he experienced interactions with what he calls "Karens" along the way.
Imagine being a young songwriter and getting tips from a creative team who really know how to construct a tune. After all, they wrote "Let It Go."
In adherence to Massachusetts government guidelines, the board of directors of the Provincetown Theater has made the decision to reschedule all 2020 productions to the 2021 season.
Jesse Tyler Ferguson is a star in his own right but even he has had to gulp at the wattage on tap for the upcoming benefit for New York City's fabled Public Theater.
The TV series "Smash," which only ran for two seasons on NBC but has nevertheless developed an intense fanbase, is getting a musical makeover and might be headed to Broadway.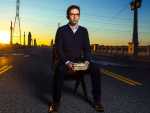 In this "gleefully diabolical" one-man show Helder Guimaraes whimsically discusses his own experiences growing up with a somewhat guarded grandfather as he navigated his desire to be a magician.
You can catch Elaine Paige in her iconic role as Grizabella in "Cats" this weekend on YouTube. EDGE spoke to the musical theater superstar about that role, Webber, Broadway and that movie version of "Cats."
Theatergoers in the Ocean State will likely have to wait until the fall before they can see a live performance again.
The big budget musical "Frozen" will not reopen when Broadway theaters restart, marking the first time an established show has been felled by the coronavirus pandemic.
1 thru 10 of 2082 Stories