Cal Shakes' A Midsummer Night's Dream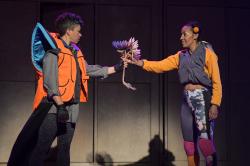 Cal Shakes averages a new production of "A Midsummer Night's Dream" every five years. So, how to keep each one seeming surprising and original?

Well, in the case of director Tyne Rafaeli's new show that opens the Cal Shakes season, you can always go in for making it really, really weird.

Rafaeli last came to the Orinda theater with her very measured "Measure For Measure" in 2017, presenting that deeply troubling play with alarming frankness. By comparison, "Dream" seems like a light lift, but Rafaeli takes the high-spirited affair to uncomfortable new places of its own.

Of course, it's still the same story at heart: Hermia, daughter of a rich Athenian lord, plots to flee her unwanted engagement and elope with teenage heartthrob Lysander instead.

That's Jenny Nelson as Hermia, coming off a bit flat during the lovey-dovey scenes. But Dean Linnard as Lysander charms while looking like the lead for a disaffected '90s garage band, and it's too bad the part isn't bigger for him.

Demetrius (Kevin Kemp), Hermia's unlikable fiance, chases after them. His ex, Helena (Annie Worden), still lovesick over this jerk for some reason, chases him too.

Worden previously manifested in "Measure For Measure," but her totally unabashed style of comedy works much better here, particularly the scene where she raids the wine cellar.

Both couples end up lost in an enchanted forest, where the mischievous and possibly insane fairy jester Puck (Scottish-Jamaican actor Robyn Kerr, bringing both her natural accent and swagger to the show) wreaks havoc on them.

It's a good tale, and after 400 years the lovers' squabbles and the terrible play-within-a-play at the end remain perfectly hilarious. If any comedic material is truly immune to the passage of time, this is probably it.

Audiences might leave with some questions about the visual framing of it all though.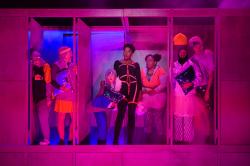 Ásta Bennie Hostetter's costumes look as if they happened by accident. It's one thing that the Athenians all appear wearing mismatched retro outfits with an emphasis on neon colors. That's weird, but not as distracting as it sounds.

The fairies, on the other hand, are almost unwholesome in how out of place they appear. Hostetter says the idea was to convey the personal style of characters who have totally inhuman ideals. It definitely worked, but success can be a curse all its own.

It's not all bad. Titania (an utterly classy and commanding Jerrie Johnson) gets wardrobing that appears as powerful and confident as she is. But the getup on Oberon (Rami Margron) resembles nothing so much as a rogue life preserver in the process of eating the performer, and the mismatch really detracts from their scenes.

The craftsmen-turned-amateur actors in the play's B-plot all wear hardhats and glaring yellow jackets, looking kind of like the Doozers from "Fraggle Rock" reruns.

When Bottom (Marcel Spears, who creates a seemingly perfect amalgam of practiced performance and ad-libbing) transforms into a donkey the results look less like an ass and more like a colorblind March Hare.

Nina Ball's towering set is just as inconsistent. A tremendous box studded with seemingly infinite panels and doors, it seems to illustrate the staid, confining nature of Athenian life and law as the characters emerge from and disappear back into its depths.

That being the case, you might expect the box to be blown open and its contents revealed during the forest scenes. But although the facade changes shape many times, it never feels any less like a blockade.

The many doors and swinging panels seem a bit accident-prone too, and several times they created small havoc for actors trying to move between them.

The only visual element of the show that really works is Jiyoun Chang's potent lighting, which lends intimidating grandeur to Kerr's scenes in particular.

This "Dream" is on the feverish side, buoyed by the cast and the fact that it's as close to a sure thing as Shakespeare ever wrote, but saddled with visual ambitions beyond its kin to fully realize.

"A Midsummer Night's Dream" runs through June 16 at the Bruns Memorial Amphitheater in Orinda. For tickets and information, call 510-548-9666 or visit www.CalShakes.org.
Comments on Facebook