Long Lost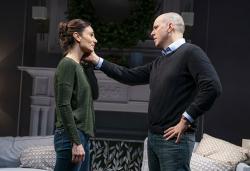 You seem to have it all. A successful career, a great spouse, a beautiful home, and a bright son who's a freshman at an Ivy League school. And then your ne'er-do-well brother shows up and immediately starts pulling at little strings, attempting to unravel it all. Sounds like a nightmare, right? That is the frustrating situation that confronts a man named David in Donald Margulies' new play, "Long Lost," now playing at the Manhattan Theatre Club's Samuel J. Friedman Theatre.

Working as a consultant and married to a former corporate lawyer who now runs a charity, David (Kelly AuCoin) seems to be living the good life as a hard-working family man. His older brother, Billy (Lee Tergesen), on the other hand, is a former (or current?) drug addict who has destroyed all his relationships and has nowhere to live.

When Billy turns up unannounced at David's Wall Street office looking for brotherly compassion and a place to stay, David is not inclined to provide it. Though he once idolized his terminally destructive older brother, David has been hurt by him too many times in the past. But a shocking revelation from Billy leaves David feeling that he has no choice but to bring him home.

The timing couldn't be worse, as David's wife Molly (Annie Parisse) is holding a gala for her non-profit Safe Harbor, and their son Jeremy (Alex Wolff) is coming home from college for Christmas break. As David and Molly are attending the gala, Jeremy arrives to find his uncle Billy—who he hasn't seen in many years—telling tall tales about the past and treating the well-appointed home like a frat house.

The dramatic device of an unwelcome, unstable sibling turning up and upsetting the protagonist's well-ordered life is nothing new, but "Long Lost" does manage to take some intriguing turns. While Billy seems to want to be loved and accepted by this family, he also has a compulsion to cause trouble, whether it's provoking Jeremy to challenge his parents' house rules or using a very old secret about Molly like a weapon against David.

As Billy, Lee Tergesen makes you want to throttle the character, while also reflecting Billy's inner decency. Kelly AuCoin is terrific as David, a character that is both relatable and opaque. Annie Parisse resists the stereotype of the perfectionistic, upper-class, career-oriented mom by also showing Molly's warmth and vulnerability. As Jeremy, Alex Wolff is the ultimate "good kid," a loving, conscientious young man who is still testing boundaries and learning how to navigate all kinds of different grown-up relationships.

The unpredictability of Billy's character creates an ongoing tension that makes any dialogue with David's family feel potentially dangerous. Yet the pace of "Long Lost," which is directed by Daniel Sullivan, does flag at times, especially during some of David and Billy's conversations. Though it is a slim 90 minutes, the play feels longer.

While "Long Lost" might not be an especially remarkable play, Margulies does offer some interesting observations about family dynamics, telling the truth, and what it means to be good or bad.

"Long Lost" runs through June 30 at City Center Stage 1, 131 West 55th Street, NYC. For information or tickets, call 212-581-1212 or visit www.manhattantheatreclub.com.
Brooke Pierce is a freelance writer and playwright in New York City. Her plays have received staged readings at the American Theatre of Actors, the Ensemble Studio Theatre, and Stage One Theater. Brooke is a member of the Drama Desk and the Dramatists Guild.
Comments on Facebook