Convention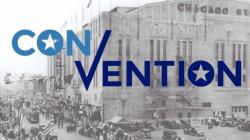 When most Americans think of the politics of 1944, what we really think about is World War II and all it entailed -- the D-Day invasion, young GIs walking the streets in uniform, a country trying to retain its optimism with the world on fire. What we don't think about much are political parties, conventions, backroom deals, party bosses, and progressivism. But that is exactly what playwright Danny Rocco puts the spotlight on in his new play, "Convention," playing at the Irondale Theater in Brooklyn.

In some ways, "Convention," which is set at the Democratic National Convention in Chicago Stadium, July 20-21, 1944, is more of an experience than a play. Under Shannon Fillion's impressive direction and following Rocco's meticulously crafted script, the enormous cast makes great use of Irondale's sprawling space (an old school auditorium). As the play starts, characters are sitting with the audience, arguing in the balcony, wandering the floor, and onstage at the microphone.

Don't get nervous by the cacophonous opening, which is a theatrical 'choose your own adventure'. Although it's fun dipping into one conversation or speech, and then turning your attention to another, that would obviously get exhausting. There are a number of these moments throughout the evening to create the feeling of being in a real convention hall, but Rocco mostly focuses in on a series of scenes with a smaller number of characters in conversation.

With the very popular FDR already set to run for his fourth presidential term, the main business of the 1944 convention was selecting a vice president. Because Roosevelt was already quite ill (he died less than a year later), the choice of VP was critical because everyone knew whoever was chosen was destined to soon have the top job.

The most obvious candidate, the current VP Henry A. Wallace, made party centrists nervous because of his unapologetic progressivism. We get a taste of this in an opening speech from Wallace where he champions issues like racial and gender equality. Harry Truman is viewed as a more palatable alternative by some, leading to two warring factions at the convention.

Rocco's sly script captures delegates, candidates, and organizers as they engage in secret meetings, wheeling and dealing, begging and pleading, changes of heart, backstabbing, and all the shenanigans you might expect to see at a contentious party convention. Recognition has to be given to the show's sound designer, Megumi Katayama, who ensures that we in the audience can catch everything happening around us.

The entire cast deserves major kudos for pulling off such a carefully timed endeavor. So many of them make a great impression, but I'll give special praise to Kathleen Littlefield as conflicted convention co-chair Samuel D. Jackson, and McLean Peterson as the casually corrupt Mayor of Chicago, Edward Kelly. Many of the male politicians in "Convention" are played by very talented younger actresses, which has the interesting effect of highlighting the characters' personality quirks. With their size and age stripped away, we better see who these important men in suits really are.

Most people attending "Convention" know how things end, but the journey there is a fascinating and funny history lesson. And, as we head into the 2020 presidential election, with Democrats considering centrism versus progressivism, the fight of 1944 feels awfully familiar. One wonders, will the results be different this time?

"Convention" runs through June 29 at Irondale Center, 85 Oxford Street, Brooklyn, NY. For information or tickets, call 718-488-9233 or visit www.irondale.org.
Brooke Pierce is a freelance writer and playwright in New York City. Her plays have received staged readings at the American Theatre of Actors, the Ensemble Studio Theatre, and Stage One Theater. Brooke is a member of the Drama Desk and the Dramatists Guild.
Comments on Facebook