Jessie Mueller and Seth Rudetsky @ Emerson Colonial Theatre, July 8, 2019
This past Tuesday, the nearly sold out audience at the Emerson Colonial Theatre was roaring with laughter every few minutes, that is when they weren't enrapt with the beautiful singing coming from the stage in "A Conversation with Jessie Mueller," hosted by musical theater aficionado Seth Rudetsky. This was one of the most fun, informal evenings of musical theater in recent memory.

The event was the first in a Broadway concert series that impresario Mark Cortale (in conjunction with the Ambassadors Theatre Group) bring to the Emerson Colonial over the coming months featuring Rudetsky and a known Broadway personality in conversation and song. Cortale produces a similar series at Provincetown's Art House over the summer.

Rudetsky, who is a Broadway actor, writer, producer, arranger, conductor, musical director, and in his spare time, host on the SiriusXM Satellite Radio Broadway channel, has found his niche as an interviewer of Broadway musical theater performers live on stage, mixed with songs by the performer, whom he accompanies on piano. Having spent his life in the musical theater world, mostly within the Broadway community, he has developed a peerless knowledge of Broadway musical theater, which he uses to pepper his conversations in enthusiastic outbursts, often as quick little humorous asides. He is the Robin Williams of musical theater trivia. And if you think that two hours of non-stop musical theater esoterica would be over the heads of an audience, tell that to Tuesday night's crowd at the Emerson Colonial who gave Mueller three standing ovations.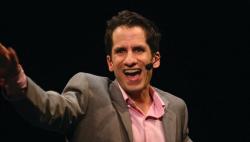 The format he has been using for nearly a decade of "Conversations with..." is a mix of song and gab, with a grand piano off to stage right and a pair of chairs and a tea table off to stage left, set on "a swatch of living room rug" quips Rudetsky in the show's opening conversation with Tony Award winner and Broadway actress Mueller ("Beautiful," "Waitress," "Carousel"). Some may recall him employing this format with both Chita Rivera and Christine Ebersole last year at the Calderwood Pavilion in Boston's South End, and will employ this upcoming summer season at Provincetown's Art House with the likes of Beth Leavel and Audra McDonald, as well as with Cheyenne Jackson (October 4) and Kelli O'Hara (January 9) at the Emerson Colonial. He also reprises his "A Conversation with Jessie Mueller" at the Art House on July 12-13.

For more on these dates, visit Mark Cortale's website.

Rudetsky's interview style is so dishy and mostly extemporaneous that he manages to get his subject to relax into telling stories and intimate personal anecdotes that wouldn't otherwise come out in more conventional interviews. Mueller opened up about her fear of concert singing ("Oh, you say, 'Give me a costume, give me a character,'" Rudetsky mocks), though you would never know Mueller is dealing with such apprehension, as natural as she was both singing and conversing with Rudetsky. And Mueller was a worthy comedic foil, matching Rudestky quip for quip throughout, which is in real contrast to the mostly serious roles she has played on Broadway. It is a testament to her storytelling ability and Rudetsky's skillful guiding of their conversations that the talking bits were as entertaining as Mueller's simply transcendent singing.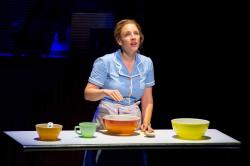 Anyone who has seen Rudetsky's self-made YouTube videos where he deconstructs songs by Broadway performers, using their recordings, knows that Rudetsky is "obsessed" (his word) with belting and with judicious and appropriately placed vibrato. Mueller could be his permanent muse. With a voice like warm honey, that bends and wraps around notes like a series of vocal caresses, that can belt and lilt on command, she is a quintessential Broadway ingénue.

Rudestky likes to drape the arc of the show with songs from the career of his subject, and with Mueller, that leaned heavily on songs from her two biggest Broadway roles, "Beautiful" and "Waitress", a tone that was set right from the opening number, "I Feel the Earth Move," to which Rudestky shouts, as she starts, "which she sang on the Tony Awards the night she won the Tony!" To Mueller's credit, outside of the context of the show "Beautiful," she doesn't try to mimic Carole King, instead making it truly her own in an upbeat but smooth and personal pop style. Being the theater ham that he is, Rudetsky shouts "Big finish, please!" just before the last phrase and Mueller doesn't disappoint, bringing it home with a belt to rock the rafters.

Mueller is an enigma. She is a small package that packs a powerful punch. She seems shy and demur, a characteristic on which she capitalizes in the song "Shy" from one of her early career Chicago roles as Winifred in "Once Upon a Mattress." Beginning small, she surprised and amused by letting her big voice burst out on the title word. While not imitating Carol Burnett's definitive performance, this particular number could have gone over better had Mueller started even smaller and waited a bit to employ her impressive belt.

That minor quibble aside, I could listen to Mueller sing all night. Her acting ability is awe-inspiring, with intense and genuine facial expressions that draw you in, especially in the quieter moments of a song, where you can read the turmoil in her mind as she struggles with whatever conundrum is being revealed in the song's lyrics. Mueller scored several "pin drop" moments, on such exquisite performances of Joni Mitchell's "Both Sides Now," where she was pensive, reflective, and vulnerable, "My White Knight," which she sang earlier this year in a Kennedy Center production of "The Music Man," in crystal clear legitimate soprano, replete with the perfect high C money note at the end; an urgent "What Baking Can Do" from "Waitress;" and the most delicate delivery of "She Used to Be Mine," also from "Waitress," which was simply riveting.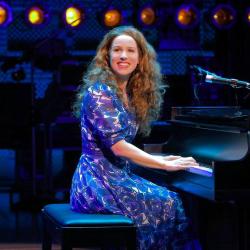 Rudetsky steered her into telling the story of her audition for "On A Clear Day You Can See Forever," in which Mueller was cast right after moving from Chicago to New York and which began her upward trajectory toward becoming a Broadway leading lady. As part of the storytelling she performed her audition song, "It Might As Well Be Spring," twice, first sweetly as intended, and then in a bouncy and impressive jazz arrangement, laden with scat, vocalese and nimble vocal dexterity, the latter version clinching the deal to be cast as a 1940s jazz singer.

Between her two songs from that show, Rudetsky coaxes her to tell backstage stories of "when things go wrong," where she then shares a funny onstage moment with co-star Harry Connick, Jr. And when Rudestky isn't razzing Mueller about only loving 4-hour shows when she was growing up ("Showboat," "Les Miserable," "1776"), he is teasing her about only working in musicals with one-word titles ("Beautiful," "Waitress," "Carousel), to which she instantly retorts, with hand up to ear like a mock phone receiver, speaking to a producer, "Oh you want me to star in 'Funny Girl?' I'm sorry I can't. It's too many words." Rudetsky and Mueller make a great team, like Sonny and Cher, except they are both funny.

Like many members of the Broadway community, Rudetsky and Mueller use their talents to give back, and twice Rudetsky mentioned benefits he produced that also involved Mueller. The first was the foundation that he and his husband James Wesley run to support finding homes for older homeless children who are difficult to place because of their age. Another was a benefit to raise money for the LGBTQ community of Central Florida immediately following the shooting at the Pulse Nightclub in Orlando. Again, he and his husband worked together to produce a recording and a concert of 60 Broadway performers singing Rudestky's arrangement for "What the World Needs Now," (Bacharach/David), which Mueller sang for us this past Tuesday with heartbreaking sincerity. And never to dwell in the dark depths, Rudestky picks up the room by reminding Mueller that she asked him if he'd like her to contact Carole King to participate, to which he instantly snaps, "No. I don't want her in my show! (pause) YES, I want you to contact her!" And scene.

Seth Rudetsky and Jessie Mueller perform "A Conversation with Jessie Mueller" at the Art House, Provincetown, MA, July 12-13. Rudetsky continues his Art House "Conversation with..." series with Beth Leavel on August 18-19 and Audra McDonald on September 1. Rudestky will be back at the Emerson Colonial Theater with Cheyenne Jackson on October 4, 2019 and Kelli O'Hara on January 9, 2020. For information on these performances, see http://www.markcortalepresents.com/.
John Amodeo is a free lance writer living in the Boston streetcar suburb of Dorchester with his husband of 23 years. He has covered cabaret for Bay Windows and Theatermania.com, and is the Boston correspondent for Cabaret Scenes Magazine.
Comments on Facebook