Theater: A Weekend in the Berkshires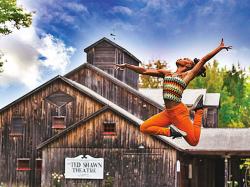 Two performers on stage. Two halves of a work, the world premiere of "The Day," choreographed by Lucinda Childs to words and music by David Lang. Two colors: white for remembrance, black for sorrow. Two towers that fell to the earth on 9/11.

Last Friday night's performance of "The Day" at Jacob's Pillow Dance Festival centered a weekend packed with events at many of the venues that flourish in the Berkshires, just two hours west by car from Boston. The Thursday night, Barrington Stage production of "Gertrude and Claudius" by Mark St. Germain, a prequel to Shakespeare's "Hamlet," based on the novel by John Updike, and Friday night's visit to Jacob's Pillow, was followed by the Saturday matinee performance of "The Children" by Lucy Kirkwood at Shakespeare & Company. The sojourn also included the Saturday night performance by the Boston Symphony Orchestra at Tanglewood (conducted by Asher Fisch, with guests PInchas Zukerman, violin, and Amanda Forsyth, cello), and a drive to Williamstown to view the splendid exhibit featuring Renoir's Nudes at The Clark Museum.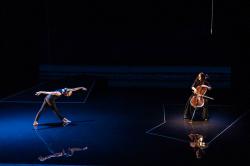 "The Day" opens with cellist, Maya Beiser, seated on a platform upstage, joined by a single dancer, Wendy Whelan, posed on a stool, downstage right. Both are dressed in white, with Whelan looking like a Greek goddess wrapped in draperies, trailing a cloak behind her. They shared the performance space throughout the one hour, fifteen-minute long work, in a duet that referenced each other's reactions to the words and music, but projected separate emotions, movements and gestures. The movement style, comprising simple walks, runs, and skips of the first half hearkens back to Ms. Childs' history in the 1960s with the Judson Dance Theater, an experimental group that defiantly proclaimed "No" to traditional modern dance or ballet.

Barefoot, but with arched feet molded by her decades as a ballerina at New York City ballet, Whelan (recently appointed Associate Artistic Director of NYCB) held the stage with authority, reaching now and then for props handed to her by an off-stage arm: two long poles, a ball wrapped in a cloth as if to suggest a partner, a long piece of twisted rope. This first part was accompanied by Beiser not only playing her cello, but also speaking words of a poem created by Lang from sentences elicited from a crowd of people who had been given the start of a sentence: "I remember the day that I..."

Dressed in black, the performers returned for the second part that had only music, no words. The entire piece was played against a screen that covered the rear wall filled with projections: photographs of the two performers during the beginning, changing to a film of calm water lapping a shore for the ending. Beiser's thrilling performance of the score was amplified by riffs of the music that she had pre-recorded to be embedded into her live performance. Childs gave Whelan choreography based on ballet technique for the second half, a totally different mood from the portion set to both words and music. Watching Ms. Whelan manipulating her white draperies made me think back to early modern dancer, Miss Ruth St. Denis, ruling deity at Jacob's Pillow which was started by her husband, Ted Shawn in the 1930s. She was the queen of extending her movement into the fabric moving around her, influencing Martha Graham who did the same in some of her works, extending down to Ms. Childs so long after them. "The Day" will be performed at Royce Hall, UCLA, Oct.18-19; The Joyce Theater, New York, Oct. 22-27; and the Eisenhower Theater, Kennedy Center, Washington, D.C., Dec. 6-7.
"Gertrude and Claudius" is a costume play and an odyssey, covering a period of 30 years, during the Queen's marriage to King Amleth (Douglas Rees), and the time encompassing his murder and her second marriage to Claudius who becomes king. According to Updike and St. Germain, the love affair between Gertrude (a glowing Kate MacCluggage) and Claudius (the swaggering, but set aside younger brother, Elijah Alexander) is imagined to have flowered through correspondence between Claudius, besotted with love for his sister-in-law and traveling the Medieval world to stay away from her; and Gertrude, trapped in a respectful marriage but wanting more, into an affair. Polonius (the scheming, charismatic, Rocco Sisto), loyal courtier to Gertrude, instigates the murder when he realizes that Amleth wants to be rid of him. Hamlet (the young and exciting actor, Nick LaMedica) has only a small role in the mesmerizing final scene, staged by director, Julianne Boyd, as an acapella chorus of conflicting motives, which makes one wonder why the Barrington Stage didn't just go for a production of "Hamlet, " given the cornucopia of talent on stage.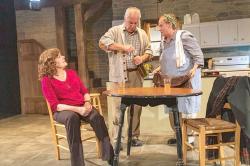 "The Children" is a three-hander about the tragedy of an explosion at a nuclear reactor somewhere on the coast of England and its effect on the scientists who worked there and might have built in a fail-safe remedy in case of such a disaster. The married couple, Hazel (Diane Prusha) and Robin (Jonathan Epstein) live in a cottage outside the exclusion zone established after the accident. Rose (Ariel Bock) returns to see them after an absence of 38 years. A single woman, Rose has recovered from breast cancer, but has no ties or responsibilities to anyone. Hazel and Robin are retired, having raised four children together who are now grown.

At first, the play runs like a situation comedy, staged on a homey kitchen-parlor setting. The triangular relationship grows more complex with revelations that Robin and Rose have had an affair that never ended. After intermission the mood turns black when Rose reveals the reason for her visit, suggesting a startling way for them to atone for their sins. These veteran actors turn the play into a tour-de-force of character building. Prusha plays Hazel as a lumbering housewife, more crafty than one might surmise. Bock's detailed portrayal of a pragmatic but disappointed woman comes as a surprise, given the coolness of her demeanor. Epstein, usually seen in oversized leading Shakespearean roles over 32 seasons at Shakespeare & Company settles easily into Robin as an ordinary, troubled creature trying to survive in extraordinary times. With memories of 9/11 evoked by "The Day," and the nuclear explosion set in motion in Kirkwood's play, the real world of the 21st century cannot be left behind, despite the surrounding lush hills and valleys of the Berkshires.

"The Day" at Jacob's Pillow, Doris Duke Theatre, Becket, MA, July 31-August 4, 2019. Upcoming dates for the piece are at Royce Hall, UCLA, Oct.18-19; The Joyce Theater, New York, Oct. 22-27; and the Eisenhower Theater, Kennedy Center, Washington, D.C., Dec. 6-7.

"Gertrude and Claudius" at Barrington Stage Company, Boyd-Quinson Mainstage, Pittsfield, MA, through August 3. For what's currently playing and coming up at the Barrington Stage Company, visit the Barrington Stage Company website.

"The Children" at Shakespeare & Company, Elayne P. Bernstein Theatre, Lenox, MA, through August 18. For more information about "The Children" and what else in playing at Shakespeare & Company, visit the Shakespeare & Company website.
Comments on Facebook