Review: 'Mayor Pete: A Reading' is Cynical, Superficial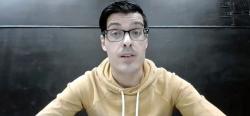 In "Mayor Pete: A Reading," writer/director Kevin Broccoli portrays Pete Buttigieg, one of the contenders for the 2020 Democratic Presidential nomination and an out gay man. Buttigieg was recently confirmed as the Secretary of the Department of Transportation.
Broccoli, the artistic director of Epic Theatre Company, live-streamed the performance (described as a reading) on Facebook February 16. It can be viewed on the theater's Facebook page.
The story takes place during the primary season as Buttigieg ruminates on his political career in a hotel room.
The former Mayor of South Bend, Indiana surprised pundits when he came out of nowhere to be a serious rival to more well-known politicians such as Bernie Sanders, Elizabeth Warren, and Joe Biden. Buttigieg and his husband, Chasten, even made the cover of TIME.
As a character study, "Mayor Pete" fails. Broccoli ignores Buttigieg's intelligence and commitment to public service in favor of a series of rants about bigotry, the media's need to poke holes in a politician's character, and the petty jealousy of gay men.
In a tedious diatribe, Buttigieg laments the homophobia in the Black community and fears their rejection. Does Broccoli really expect us to believe the main reason Buttigieg didn't get support from the Black community was because they were turned off by his sexuality? This is offensive in the extreme. I do not know if Buttigieg really feels this way, but if he does, then his condescension is appalling.
What's kind of sad is the deep contempt of other gay men Broccoli has Buttigieg express. For example, Buttigieg describes hanging out in a bar. One of the patrons is very much on his mind. "He sees himself in me the same way every gay man sees himself in every other gay man and hates what he sees," Broccoli says. "We get off on the self-inflicted pain that seems like it's something we're doing to someone else."
Again, I do not know if Buttigieg believes this, but it represents a deeply cynical point of view.
At one point, Buttigieg frets about his "bland" appearance as well as all the gay men who want to know the names of his past sexual partners.
Watching Buttigieg in various interviews over the last year, I never got the impression he was that concerned about his looks. Broccoli apparently assumes Buttigieg is the type of man who laments not spending countless hours in the gym so he can have the perfect physique.
Maybe people in the LGBTQ community care more about paying their bills and obtaining healthcare than what Buttigieg does in bed every night.
Pete Buttigieg's sexuality is simply not an issue the way it would have been if he had run for President in the much less tolerant period of the 1980s or 1990s. A story about that would have been fascinating.
"Mayor Pete" was intended to be performed last summer but was delayed due to the pandemic. Would it have had more impact if it had been performed before the November election? I don't believe so.
By focusing on superficialities, Broccoli misses the point. It's a shame because Broccoli has turned in excellent work in the past. He played multiple roles, including Barbra Streisand, in the solo piece "Buyer and Cellar" a few years ago.
That was a play with singular focus on a dynamic personality and what made her tick. "Mayor Pete" never gives us good insight into a fascinating man.
"Mayor Pete," presented by Epic Theatre Company, can be viewed at the theater's Facebook page.
Joe Siegel has written for a number of other GLBT publications, including In newsweekly and Options.
Comments on Facebook