This Is Our Youth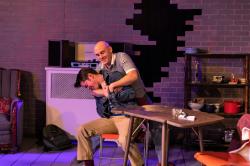 Burbage Theatre Company's "This Is Our Youth" is a satirical look at the shallow and greedy culture of the 1980s. It was the Reagan era, when everyone was striving to make as much money as possible.
Best friends Dennis (James Lucey, seen in last year's "Shakespeare in Love") and Warren (Brooks Shatraw, making his Burbage debut) spend their days smoking dope and talking about women. They are both unemployed slackers living an empty existence in New York City.
Warren steals $15,000 from his father, a wealthy lingerie manufacturer, after being thrown out of his house. He shows up at Dennis' apartment where the pair concoct a scheme to use some of the stolen money to buy 20 grams of cocaine, which they will sell for a profit.
Unfortunately for them, their plans go horribly awry.
Playwright Kenneth Lonergan, who also wrote and directed the movie "Manchester By The Sea," has a great touch with dialogue and creates multi-dimensional characters struggling to find themselves.
Born in the 1960s, Dennis and Warren have enjoyed privileged childhoods and have no direction or purpose. When Warren arrives, Dennis barely has enough motivation to get up in order to let him into the apartment. The pair spend an inordinate amount of time bickering about the cocaine sale and how much money they will be splitting.
The capable direction of Allison Crews, along with the excellent work by her performers, showcases the comic absurdity of the situation very effectively.
Lucey is alternately self-loathing and arrogant as Dennis, boasting of his business acumen and making arrangements for the cocaine sale on the phone. It's masterful the way Lucey subtly shows us the wheels turning in Dennis' mind. Dennis believes he can become a successful movie director, despite having no real talent for filmmaking.
Shatraw displays excellent comic timing and is also very believable, allowing Warren's boyish innocence to serve as a shield for his utter cluelessness about dealing with women.
The two actors, who are onstage together for much of the time, exhibit a crackling chemistry. The brilliance of Longeran's writing is his ability to make these misfits sympathetic. Dennis is exasperated at Warren's foolishness but by the end of the play we sense that deep down he cares about him.
I also liked Cassidy McCartan as Jessica, an attractive but insecure young woman who has a tryst with Warren at a posh hotel. Their relationship is fraught with tension partially due to Warren's propensity for boasting about his sexual conquests to his friends.
"This Is Our Youth" is the kind of contemporary production Burbage does best. It's a story about what happens when young adults struggle to break away from their parents, as well as the beliefs they were raised with. Life holds many lessons for these wayward youths, not all of them simple.
"This Is Our Youth" runs in rep with 'Thom Pain" through February 24. Burbage Theatre Company. 249 Roosevelt Avenue, Pawtucket, RI. For tickets, visit https://www.burbagetheatre.org
Joe Siegel has written for a number of other GLBT publications, including In newsweekly and Options.
Comments on Facebook