As temperatures fall, people are spending more time indoors. That heightens the risk of the coronavirus spreading, but there are some simple steps you can take to help protect yourself and everyone around you.
As the pandemic drags on, following COVID-19 prevention guidelines can feel like more and more of a challenge.
Health experts recommend wearing masks in public and keeping your distance from others in most cases, but whether you should do both could depend on the situation.
U.S. health officials Wednesday redefined what counts as close contact with someone with COVID-19 to include briefer but repeated encounters.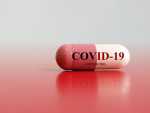 There are several, and which one is best depends on how sick someone is.
The flu vaccine protects you from seasonal influenza, not the coronavirus — but avoiding the flu is especially important this year.
It turns out there's a common thread among many of these conditions, one that has been months in the making: chronic stress.
How long can you expect a COVID-19 illness to last? Short answer: It depends. But there are a number of factors to consider.
If you think you're safe from the coronavirus just because you're outdoors, think again. While the wind and the large volume of air make the outdoors less risky than being indoors, circumstances matter.
Dozens of vaccine candidates are in various testing stages around the world, with 11 in the last stage of preapproval clinical trials. One or more may prove safe and effective and enter the market in the coming months. What then?