Palmetto Harmony
Harmony CBD has harnessed hemp's power to create a line of skincare products that will have us looking better than ever in 2021.
Harmony CBD combines South Carolina-grown hemp with organic herbs and essential oils to create a collection of topicals for daily skincare, muscle fatigue and more.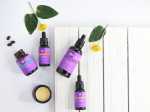 With her daughter's life at stake, Janel Ralph researched and launched a vertical CBD company to minimize the effects of a rare brain disease. Now, Harmony CBD is helping customers of all kinds.
A desperately sick child. A mother who refused to take "no" for an answer. It was this call to action that motivated the launch of Harmony CBD, an organic American hemp company.