Gay News: The Latest
After a chaotic administration that's been disastrous for LGBTQ rights, uncertainty and realism are tempering expectations for Biden-Harris results.
RuPaul challenged the queens to riff on the slogan, "We're here. We're sheer. Get used to it." Here's our take.
The coronavirus was found on ice cream produced in eastern China, prompting a recall of cartons from the same batch, according to the government.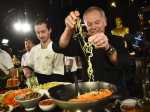 Usually cameras are trained on the celebrities at such shindigs but with the new HBO Max series "The Event," they have captured the cooks and servers toiling behind the scenes.
Phil Spector, the eccentric and revolutionary music producer who transformed rock music with his "Wall of Sound" method and who later was convicted of murder, has died. He was 81.
It's being reported that Caitlyn Jenner might appear on the "Sex and the City" reboot.
Out actor Jeffrey Bowyer-Chapman has joined the cast of Disney+'s "Doogie Howser" reboot called "Doogie Kamealoha, M.D."
The twice-impeached president painted a fantasy world in office, starring himself. In this world, he did things bigger, better, more boldly than all who came before him while facing enemies more pernicious than any in creation.
JPMorgan Chase is donating $5 million to LGBTQ organizations that have been impacted by the COVID-19 pandemic.
In Hollywood's long history, there have been instances of gay actors playing gay roles. Here's a list.
The legislation would ban specific types of surgeries on infants born with intersex characteristics. Advocates are pushing to delay these types of surgeries until the child is old enough to develop a gender identity.
"Star Trek" actor Mary Wiseman came out as "queer and proud" following an interview in which she seemed to be saying "I'm not straight" when addressing the presence of LGBTQ characters in the franchise.
Chick-fil-A hit a roadblock this week in an effort to open a new location in Castro Valley. But was it traffic concerns or the company's stance on LGBTQ issues that ruffled the Castro Valley Municipal Advisory Council's feathers?
"New Year. New You." It's a phrase we've heard countless times, but what exactly are we striving for? Enter Noom, which has people lead healthier lives through behavior change since 2016.
After the train wreck that was 2020, you may well question whether it's worth trying to plan anything. But knocking off a few financial tasks early in the year can better prepare you for whatever 2021 has in store.
Trucks and SUVs will dominate the news in 2021. Edmunds' experts cover the five they think will make the biggest splash.
Italy's fashion chamber opened on Friday the first Milan Fashion Week that won't have VIPS populating runway front rows, as the reality of Italy's persistent resurgence of the coronavirus has forced an all-virtual format for presenting menswear previews.
"Masks and social distancing will need to continue into the foreseeable future — until we have some level of herd immunity," said Dr. Preeti Malani, chief health officer at the University of Michigan. "Masks and distancing are here to stay."
There is a ray of light for Parisians who, like the rest of the French nation this weekend, begin to observe a tightened coronavirus curfew: The famous Rodin Museum sculpture gardens is reopening to visitors.
The term "sexual fluidity" has come under scrutiny as researchers further explore the nuances our sexual expression, attraction and behavior.