Gay News: The Latest
A gay teenager who fled Romania for the UK is homeless after losing his job during the pandemic, and has set up a GoFundMe page for assistance in getting back on his feet.
On Friday, in a video encouraging fans to get out the vote, Lady Gaga revisited some of her most iconic outfits... including her 2010 meat dress.
The road to marriage for "90 Day Fiancé: The Other Way's" Armando Rubio and Kenneth Niedermeier has not been easy. And on an upcoming episode have another setback.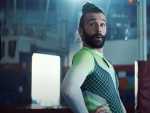 Bad. UberEats. Bad. That is the message that the conservative activist group One Million Moms is making today in criticizing a new ad campaign by UberEats featuring "Queer Eye's" Jonathan Van Ness,
Melania Trump has joined the campaign to defend President Trump's record with LGBTQ issues, despite having chosen both a Vice President and new SCOTUS judge with questionable views towards the community.
One of the films that's made a splash at this year's LGBTQ festivals is the Matt Fifer co-written and co-directed "Cicada," drawn from the lives of its two lead actors. Fifer chats with EDGE about facing life demons with art.
A transgender woman and her partner say they think it was a bullet that shattered one of their windows. It's the latest in a string of attacks on their home and property.
Tyler Posey participated in BuzzFeed's popular "___ Read Thirsty Tweets" game earlier this month in which celebs...read extremely thirsty tweets written by fans.
The big surprise on HBO's Emmy-winning "Watchmen" was that actor Yahya Abdul-Mateen II was revealed to be the powerful Dr. Manhattan. The actor recalls his comfort level with shooting the nude scene that introduced his 'blenis'.
Jake Bain, the former division one football star who famously played as an out athlete before quitting the sport last year, said in a tweet that his father abused him and others sexually.
From HIV testing to mental health services to LGTBQ youth having what they need to thrive, the COVID-19 pandemic may be having more serious effects on sexual minorities than on heterosexuals and cisgender people.
Scary, but purposeful, this blend of horror and social commentary is a tremendous debut for both director and cast.

EVO3 Oils, maker of proven-quality CBD oils and topicals, is rolling out its newest product, and it's sure to make foodies swoon.
Federal agencies warned that cybercriminals could unleash a wave of data-scrambling extortion attempts against the U.S. health care system.
Trying to pull back the veil on health care costs to encourage competition, the Trump administration on Thursday finalized a requirement for insurers to tell consumers up front the actual prices for common tests and procedures.
Volkswagen is recalling more than 218,000 Jetta sedans in the U.S. to fix a fuel leak problem that can cause fires. The recall covers certain cars from the 2016 through 2018 model years.
A private chef and nutritional consultant tackles the great potato debate. And it's not "po-tae-to po-tah-to."

Advocates for the poor say the administration's efforts contributed to an increase in the number of uninsured children, after years of decline.
EDGE takes a closer look at some of the best hotels, restaurants and activities in Greater Palm Springs, so you can start planning your vacation with ease.
CBD Unlimited is a market leader within CBD industry. Better Products, Better You! Strive to Be Unlimited!
www.cbdunlimited.com