9 Wellness Products to Put You Back on the Road to Good Health
If you're like many other Americans, chances are good you abandoned your healthy lifestyle during the holidays, overeating, drinking more than you should and avoiding exercise. But with the new decade comes the chance for a new you, one rosy-cheeked and bright-eyed with vim and vigor. Help keep 2020 resolutions going strong the whole year long with the following wellness products.

GoRelax Acupressure Mat
Funded with more than $240,000 donations on Kickstarter, the new GoRelax acupressure mat stimulates 4,800 pressure points in the body, improving blood flow, alleviating muscle tension and releasing pain-relieving endorphins. Spending just 15 minutes on the mat, which is covered in almost 200 lotus flower-shaped stimulators, will mimic the effects of a massage, reducing stress and promoting healthy, restful sleep. The GoRelax mat folds into three sections, making it easy to store and take on the go. From $79

Eyetamins Blue Blocker
Created by board-certified neuro-ophthalmologist Kaushal M. Kulkarni, M.D., Eyetamins are designed to save our weary, bleary eyes from the harmful effects of digital products. More than 80 percent of Americans go online daily, causing our peepers no small amount of stress and strain. Blue blocker's blend of powerful nutrients works to filter blue light, protecting your eyes and promoting their overall health, while also improving sleep. This brand new, all-natural, gluten-free and vegan-friendly supplement will soon be joined by optimeyes, specifically formulated to improve athletes' reaction time by improving visual processing speed. $39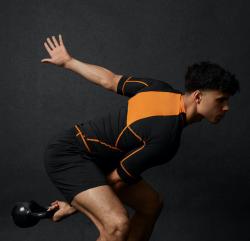 Exosuit EX01 Shirt
Brand new U.K. sportswear brand Exosuit's inaugural product isn't only good-looking enough to turn heads at the gym. The ingenious EX01 shirt uses patented technology to combine active compression with flexible structures. The result? Better muscle and joint support and improved posture. It works in the same manner as kinesiology tape, which has been used by professional athletes for decades to help treat injuries and enhance performance. Made from a blend of Italian performance fabrics and recycled nylon, the EX01 grips your body gently, making it plenty comfortable, too. Ships from the U.K. £60.00


CBD products are all the rage and with good reason. Cannabidiol, a compound that naturally occurs in hemp plants, is believed by many to help relieve conditions such as insomnia, chronic pain, inflammation and anxiety. mintedLeaf offers a variety of products, including gluten-free, non-GMO Hemp Oil tinctures, which are made in the U.S. and available in strengths ranging from 250 mg to 1500 mg. Pain-relieving CBD creams, combined with menthol or capsaicin and for use on sore muscles and joints, are also sold on the mintedLeaf site. $19.99 - $79.99

Meditation Illuminated: Simple Ways to Manage Your Busy Mind
Believed to have originated in India thousands of years ago, meditation is a practice used to focus attention inwardly, which brings about a state of calmness and clarity. Research has repeatedly shown meditation can lower blood pressure, help relieve pain, anxiety and insomnia and even combat memory loss. Joy Rains' crucial primer Meditation Illuminated not only explains how the process works, but it also teaches newbies how to meditate with straightforward, easy-to-follow instructions. $15
Huel
Founder Julian Hearn has set out to create a meal program with optimum nutrition that also preserves our fragile ecosystem. There are plenty of protein powder and meal replacements on the market, but Huel hopes to disrupt the industry (at more than 50 million meals sold in 80 countries, they're on track) by reimagining a familiar product. Huel's product line includes the original Huel powder (or gluten-free) in chocolate, vanilla, berry or unflavored/unsweetened.

The newly launched Huel Black Edition features 50 percent fewer carbs and 33 percent more protein along with 27 essential vitamins and minerals. Those too lazy to blend their own can try the ready-to-drink version, or sample the Huel bars in chocolate or salted caramel. Huel also offers a variety of online guides to encourage a deeper understanding of nutrition. Prices vary.

Pure365
As environmental regulations are slashed, and air and water quality degrades, this new integrated home purification system from Pure Wellness could be a lifesaver. Pure365's state-of-the-art technology monitors the air in your home for pollution, purifies it when necessary — reducing particulate matter by 95 percent — and also removes contaminants from your tap water, leaving you with H2O that's better than bottled. Pure365 includes an app that provides real-time data from the system and alerts homeowners when air or water quality has been compromised. Prices vary.


Dietary supplements are big business, with more than half of Americans taking at least one a day, resulting in $40 billion in sales. But products aren't strictly regulated by the FDA, leading to safety concerns.

Illuminate Labs has solved that problem by third-party testing every batch for contaminants and potency against European Union standards (the world's strictest) and publishing the results on product pages. Illuminate Lab's line of herbal extract capsules includes 1000 mg Ceylon Cinnamon, said to lower glucose and cholesterol; 240 mg Ginkgo Biloba, a supplement commonly used to improve focus and memory; and Panax Ginseng, believed to support energy, cognitive function and mood. $40
$40

hew dewy
Their mission is moisture. And if you live in a dry climate — especially during the winter months — you know how important it is for your body to stay hydrated. While a clunky humidifier at home may do the trick, hew dewy's portable version is ideal for work or travel. Set up the beautifully designed device on your desk, hotel room bedside table, or even use the USB port to plug in on your next long-haul flight. The company also donates 10 percent of profits to The Water Project, which facilitates reliable water projects to communities in sub-Saharan Africa. $39


Additional contributions by Matthew Wexler.
Jill Gleeson is a travel and adventure journalist based in the Appalachians of Central Pennsylvania. Find her on Facebook and Twitter at @gopinkboots.
Comments on Facebook