Top Story
Police in Tallahassee, Florida shot and killed a transgender suspect in a stabbing death when the suspect pointed a gun at responding officers, media sources report.
1 thru 10 of 53044 Stories
Black female mayors, including Lori Lightfoot of Chicago, are leading some of the nation's largest cities during an unprecedented moment of challenge as protests against police brutality overlap with the coronavirus pandemic and an economic collapse.
Joe Biden could seize the number of delegates needed to formally clinch the Democrats' presidential nomination on Tuesday as seven states and the District of Columbia push through a pandemic and exploding racial tensions.
Across the U.S., many celebrities have been doing far more than tweeting supportive words or issuing carefully prepared statements. They took to the streets alongside thousands of people to condemn the killings of black people at the hands of police.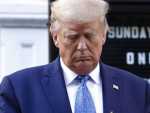 Hours after President Trump posed with a Bible and vowed to deploy the military to "dominate the streets," American cities were engulfed in more violence and destruction, overshadowing peaceful protests demanding justice after generations of racism.
A recent poll of religious Americans found that around two-thirds believe that COVID-19 has been sent by God, as a warning to mankind.
As protesters take to the streets to protest police killings of black people, companies are wading into the national conversation but taking care to get their messaging right.
He didn't talk about Floyd, the church or the damage it had suffered, or the peaceful protesters police had cleared. He said nothing about the coronavirus pandemic.
He has responded to the violence with a string of polarizing tweets, one starkly laying out the political stakes by underscoring the approach of Election Day.
Union president Lt. Bob Kroll said in a letter to union members they lacked support at the top, and the "terrorist movement" occurring in Minneapolis was years in the making.
His announcement came as police under federal command forced back peaceful demonstrators with tear gas so he could walk to a nearby church and pose with a Bible.
1 thru 10 of 53044 Stories