Watch: Hulu Release Trailer for Cartoon with Gay Dads, 'The Bravest Knight'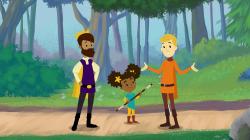 Hulu is announcing a new animated series called "The Bravest Knight," which features a young girl and her same-sex parents.

Based on Daniel Errico's children's book called "The Bravest Knight Who Ever Lived," the new show is about Sir Cedric ("Grey's Anatomy" star T.R. Knight) and his husband Prince Andrew ("Star Trek: Discovery" actor Will Cruz), their adopted 10-year-old daughter Nina ("A Wrinkle in Time" star Storm Reid) and a troll named Grunt ("Saturday Night Live" cast member Bobby Moynihan). The show follows Nina as she becomes a brave knight while her dads tell her stories about being a pumpkin farmer who became a knight.

The streaming service will release the first five episodes of the new 13-episode season on June 21. Other stars who lend their voices to the show include, RuPaul, Christine Baranski, Wanda Sykes and more.

Watch the trailer below.
Comments on Facebook