1 thru 10 of 6873 Stories
Asking people in English pubs to keep their distance is going to be tough after they've had a few of their favorite tipples.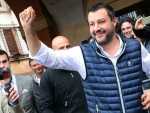 Far-right Italian politician Matteo Salvini responded to government deliberations on a bill against homo- and transphobia by suggesting a measure to counter "heterophobia." Twitter went wild with mockery.
Prosecutors in the northern German city of Bremen have charged a Protestant pastor with incitement for comments he made about homosexuality, authorities said Thursday.
Lawmakers in the small Balkan country of Montenegro on Wednesday approved same-sex partnership as part of efforts to push on with joining the European Union.
Almost 78% of voters in Russia have approved amendments to the country's constitution that will allow President Putin to stay in power until 2036, Russian election officials said after all the votes were counted. Kremlin critics said the vote was rigged.
"Harry Potter" author JK Rowling's Twitter tiff with trans people and their supporters seemingly continued with the deletion of a tweet in which Rowling had thanked American horror author Stephen King.
The Central African country of Gabon has taken steps toward decriminalizing LGBTQ people.
"Welcome to Chechnya," directed by David France, is about an underground pipeline created to rescue LGBTQ Chechens from the Russian republic where the government has for several years waged a crackdown on gays.
Iran has issued an arrest warrant and asked Interpol for help in detaining President Donald Trump and dozens of others it believes carried out the U.S. drone strike that killed a top Iranian general in Baghdad, a local prosecutor reportedly said Monday.
Moroccans are re-experiencing a taste of the life before. In newly opened public spaces, every sip of coffee in a cafe, every dip in a river with friends, every moment of outdoor intimacy is savored.
1 thru 10 of 6873 Stories