Out Actor Leslie Jordan Joins American Version of Popular Britcom, Brightens Up Instagram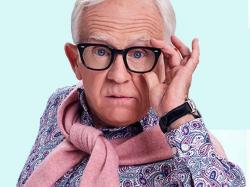 The British sitcom "Miranda" is headed to American TV screens, and out actor Leslie Jordan of "Sordid Lives" and "Will and Grace" fame is on board as one of the cast, TV Line reports.
The comedy revolves around a woman who opens a "cat cafe" in Kentucky. Fox has ordered the series into production under the name "Call Me Kat."
Jordan will play Phil, a baker working at the cafe, reports TV Line.
Jordan, who is an accomplished playwright as well as an actor, has, like many people, retreated from many interactions with the outside world, self-isolating as a means to avoid the coronavirus. But Jordans has not been idle, and he has not let the global pandemic dim his showmanship; rather, Jordan has taken to Instagram with a series of hilarious homemade videos, reports Buzzfeed.
In the videos, Jordan sings, addresses topics raised by the pandemic, and offers his tips for staying fit within the confines of one's own home.
In one brief video, Jordan wonders what his followers might be up to.
"What are y'all doin'? Screwin'?" he asks, before talking about a New York Times article that noted masturbation could be a safer form of sex during the health crisis.
"I can't even do that," Jordan, 65, lamented. "It takes too long. Too involved! ... I feel like you all are out there screwin', and here I am just sittin'. Well - screw on."
Jordan also offers an exercise video, noting that "So many people have admired over the years my rock-hard abs and very hard physique."
The video, Jordan says, is "due to popular demand."
And in one "Pillow Talk" installment, Jordan dished about his guest-starring role on an arc of "Bostin Legal" episodes opposite none other than Betty White.
Nothing that they both had been hired for five episodes, White asked Jordan, "I'm gonna kill you or you're gonna kill me." The answer ended up involving a freezer filled with "fake frozen food that said 'Freezer Queen,'" Jordan shared.
See more of Jordan's videos on Instagram.
Kilian Melloy serves as EDGE Media Network's Assistant Arts Editor. He also reviews theater for WBUR. His professional memberships include the National Lesbian & Gay Journalists Association, the Boston Online Film Critics Association, The Gay and Lesbian Entertainment Critics Association, and the Boston Theater Critics Association's Elliot Norton Awards Committee.
Comments on Facebook