Please note: You are viewing an unpublished preview of this article that is not cleared for public consumption. Do not share or post the URL of this page to any third party.
School Girls; Or, The African Mean Girls Play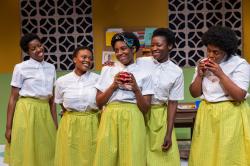 Jocelyn Bioh's "School Girls; Or, The African Mean Girls Play," currently having its New England premiere at Speakeasy Stage, delivers just what the title suggests. It is a biting dark comedy that demonstrates the viciousness of teenagers is not just the purview of wealthy American white girls.
Set in 1986, the play centers on a group of girls at an elite private school in Ghana. The alpha of the school, Paulina, is beautiful and confident and rules with an iron grip and a vicious tongue. The girls are preparing for a recruiter to arrive to pick who will be the school's representative in the Miss Ghana pageant — and Paulina has already decided the title is hers. That is until Ericka transfers in from a school in Ohio.
In many ways, they are typical teenage girls — obsessed with clothes, weight, boys, and pop stars (remember old school Bobby Brown?). Yet they are also very different from what American audiences are used to seeing in movies and television. Through what they have learned from Paulina, they view White Castle as the epitome of American dining and believe only the wealthy get their Calvin Klein in Chinatown.
Ericka's knowledge of America immediately draws Paulina's minions to her like moths to a lightbulb. Paulina's grip is instantly threatened when they learn most of her knowledge is entirely made up. They are also obsessed with Ericka's beauty regime which allows her to have such light skin without the disfiguring scarring of the popular bleaching cremes. (She is of mixed race.)
In counterpoint to the teenage drama, we also have a long simmering resentment between the two adults — Headmistress Francis, and the Eloise who works for the Miss Ghana pageant. These two went to this same school together many years before. In their day, Eloise became Miss Ghana; she left and never looked back, while Francis stayed and became Headmistress. Eloise is also fair skinned, while Francis is not.
And this is where "School Girls" becomes such a devastating commentary on Anglo-centric beauty norms. Eloise is determined that Miss Ghana must be able to pass and therefore the only acceptable choice is Ericka.
Yet for as serious as the underlying themes are, Ms. Bioh's script always manages to return to humor. And this deft group of actresses, combined with Summer L. Williams swift direction, keep the pendulum swinging so as never to become too dire or too flippant.
Ireon Roach as Paulina drives the production with her fierce determination that has been carefully crafted to contain the profound insecurity buried underneath. She is a young woman you both loathe and pity.
The other standout is Shanelle Chloe Villegas as Nana, her polar opposite. She is painfully shy and often the target of Paulina's abuse — likely because her insecurity reminds Paulina of her own. So her moments of triumph become all the more jubilant as a result.
Boston theaters have done a good job of noticeably increasing representation of women and minorities this season. Obviously, there is still work to be done. But "School Girls" provides another outstanding and powerful production providing a viewpoint that has too long been sidelined.
"School Girls; Or, The African Mean Girls Play" continues through May 25 at the Roberts Studio Theatre, Calderwood Pavilion, Boston Center for the Arts, 527 Tremont Street, Boston, MA. For more information, visit the SpeakEasy Stage website.