Search Results
Return to Wonderland was the theme of Pines Party 2021 featuring headlining DJ's David Morales, Calagna, Abel and Danny Kravits.
In a leaked Burberry ad, Adam Driver appears to morph into a centaur, but not before showing off his ripped body.
Called "the most hated man in Britain," Peter Tatchell has stood up to everyone from Margaret Thatcher and the Catholic church to Russia's oppressive government. Tatchelll recalls the drive for activism in light of a new documentary about his life.
When John Waters appeared onstage at a recent Colorado Orville Peck concert, he made a confession: "I hate to say this because some of you might take this the wrong way," he told the crowd, "but country music made me gay."
Brandon Straka, the out MAGA-supporting pundit who was arrested for his role in the Capitol Riot, is planning a come back ... on the down low.
The European Commission has stressed that "equality and the respect for dignity and human rights are core values of the EU," but does violation warrant the boot?
Chasten Buttigieg was a hit on the campaign trail, but now that he's landed in DC he is something of a fish out of water.
Gus Kenworthy welcomed the opportunity to assist out ex-Bachelor Colton Underwood in his coming out experience, but he doesn't like being called his "gay guide."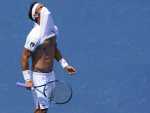 Italian tennis player Fabio Fognini has apologized for yelling at himself with a homophobic slur during a loss in the Olympic tennis tournament.
"The way of the fool is right in his own eyes," reads Milos Yiannopoulos from the book of Psalms in a video posted this week on his YouTube channel. It was the line that resonated in a one-minute video to promote his newest venture.