Search Results
Members of President Donald Trump's failed presidential campaign played key roles in orchestrating the Washington rally that spawned a deadly assault on the U.S. Capitol.
Russian opposition leader Alexei Navalny was arrested Sunday at a Moscow airport as he tried to enter the country from Germany, where he had spent five months recovering from nerve agent poisoning that he blames on the Kremlin.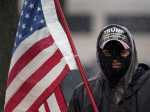 Small groups of right-wing protesters — some of them carrying rifles — gathered outside heavily fortified statehouses around the country Sunday, outnumbered by National Guard troops and police.
After a chaotic administration that's been disastrous for LGBTQ rights, uncertainty and realism are tempering expectations for Biden-Harris results.
RuPaul challenged the queens to riff on the slogan, "We're here. We're sheer. Get used to it." Here's our take.
The coronavirus was found on ice cream produced in eastern China, prompting a recall of cartons from the same batch, according to the government.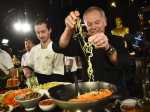 Usually cameras are trained on the celebrities at such shindigs but with the new HBO Max series "The Event," they have captured the cooks and servers toiling behind the scenes.
There is a ray of light for Parisians who, like the rest of the French nation this weekend, begin to observe a tightened coronavirus curfew: The famous Rodin Museum sculpture gardens is reopening to visitors.
Phil Spector, the eccentric and revolutionary music producer who transformed rock music with his "Wall of Sound" method and who later was convicted of murder, has died. He was 81.
It's being reported that Caitlyn Jenner might appear on the "Sex and the City" reboot.