Search Results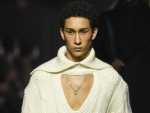 Fendi's latest collection emboldens men to embrace a more feminine silhouette, including skirts, mini-dresses and cape coats.
A man held hostages for more than 10 hours Saturday at a Texas synagogue where he could be heard ranting in a livestream and demanding the release of a Pakistani neuroscientist.
The six-year legal battle over pop superstar Prince's estate has ended, meaning the process of distributing the artist's wealth could begin next month.
Novak Djokovic left Australia on Sunday evening after losing his final bid to avoid deportation and play in the Australian Open despite being unvaccinated for COVID-19.
Gentoo penguin pair Sphen and Magic — residents of SEA LIFE Aquarium in Sydney, Australia — celebrated their third anniversary, and a new mating season, with a frozen fish cake.
While home antigen testing remains a useful — and underutilized — tool to curb the pandemic, experts say, it is often misused and may provide false confidence.
The body of Jorge Diaz-Johnston, a leader in the fight for marriage equality, was found in a landfill days after he went missing on Jan. 3. While no cause of death has been released, police suspect foul play.
Is "And Just Like That" planning on dropping another character in Samantha Jones' chair?
Pure Life Ministries founder and president Steve Gallagher asks whether promiscuity worse if you're gay or straight.
Three women are facing federal charges of attacking an airline security worker who tried to block them from boarding a flight at New York's John F. Kennedy Airport.