Search Results
One of the most admired mainstream dramas of all time takes a step up from the cable-channel presentation you're probably used to with its all-new 4K Ultra HD Blu-ray release.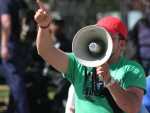 A viral video shows a group of high schoolers hurling anti-LGTBQ+ slurs during a rally against the school's GSA. Witnesses described the moment as "shocking" and "horrifying."
Antony Hickling plays a gay movie director in a spiritual crisis in a film that feels a like a modern "Divine Comedy" with an LGBTQ+ twist and a little like a queer version of "After Hours."
Lil Nas X's debut album "Montero" features a constellation of guest stars...and four petite, longtime artists have reached out looking to feature on his followup.
Tis documentary examines the question of devout LGTBQ+ people of Jewish faith reconciling their spirituality with their sexuality... sometimes after having done enormous harm by pretending.
Trans documentary filmmaker Angelo Madsen Minax returns to his Michigan home town, and his family, across several years to document a family tragedy and unravel complex relationships.
Mehdi Torab-Beigi and Mohammad Torab-Beigi co-write and co-direct a relentless psychological thriller that brims with suspense.
This tasty confection has both substance and sweetness, making for a poignant, charming comedy that's sure to become a new gay classic.
RuPaul added to his tally of Emmy awards on Sept. 19, giving him a record-shattering career total of 11 wins so far.
Pfizer said Monday its COVID-19 vaccine works for children ages 5 to 11 and that it will seek U.S. authorization for this age group soon -- a key step toward beginning vaccinations for youngsters.