Get Cookin' — 4-Course Date Night Dinner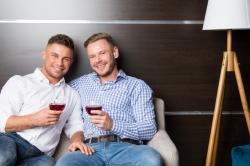 Hotel chefs from around the country have pitched in to assemble this four-course dinner menu (plus a cocktail!) for an intimate date night at home.

Heavy-Handed Gin and Tonic
From KANU at Whiteface Lodge (Lake Placid, N.Y.)

Set the evening's tone by shaking up this bold and sophisticated cocktail—perfect for sipping while you fire up the grill.

3 oz. barreled-aged gin
.5 oz. honey liquor
.5 oz. lime juice
Splash hand-crafted tonic

Shake all ingredients with ice and double strain. Top off with hand-crafted tonic. Garnish with lime wheel (and consider adding an edible flower from your home garden, like a lavender bud).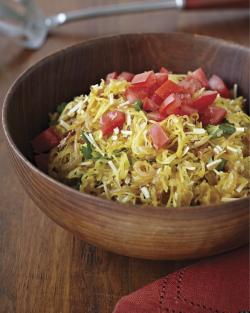 Cucumber Zucchini Salad with Hearts of Palm
Sanctuary on Camelback Mountain Resort & Spa (Scottsdale, Ariz.)

Making this refreshing salad the night before keeps date night preparations simple.

1 cucumber, peeled and diced
1 ripe heirloom tomato, diced
1 medium green zucchini, peeled and diced
4 stems parsley
1 yellow onion
1 tsp cumin
1 oz. extra virgin olive oil
1 oz. yuzu juice (substitute any citrus juice - lemon, lime, orange)
4 oz. small end of fresh hearts of palm, sliced into rings (substitute canned or jarred if necessary)
.5 oz. paprika

Combine all ingredients in a bowl and let sit overnight before eating.
Prime Delmonico
The Tap Room at Pebble Beach Resorts (Pebble Beach, Calif.)

Grilling offers a welcome excuse to step out for some fresh air after a day cooped up indoors. The Tap Room's culinary team shares pro tips for preparing the perfect steak—with nothing more than a prime cut, salt and pepper.

22-oz. bone-in, center-cut rib-eye steak
Salt and pepper to taste

The best-tasting steak starts with the best beef. The Tap Room culinary team uses prime grade beef, which represents less than 1 percent of the beef produced in the U.S. It is hand-selected for Pebble Beach Company and typically sourced from Omaha, Nebraska.

The team recommends that guests enjoy this dish medium rare to rare, as that temperature really showcases the product and retains some of the integrity of the marbling, keeping the beef moist and flavorful.

Season with salt and pepper before searing or grilling. This will impart a more intense natural flavor and, in the end, will require less seasoning.

Let the chop rest after grilling. This loosens up the muscle of the beef and makes it more tender. The difference of 5-10 minutes of rest can transform the muscle into a very tender, delectable Delmonico.
Potato Broccoli Gratin with Garlic
Gaby Brasserie Française at Sofitel New York
(New York City, New York)

The perfect side to a steak dinner, this gratin is also hearty enough to serve as a main course for non-meat-eaters.

1 lb. Yukon gold potatoes, peeled and sliced thin
1 head broccoli, cut into small pieces
1 qt. heavy cream
5 cloves garlic, minced
3 oz. Gruyere cheese, shredded
1 oz. Parmesan, shredded
Melted butter
Salt, pepper and nutmeg to taste

Mix the salt, pepper, nutmeg and crushed garlic with the heavy cream. Add sliced potatoes into the mix, then add shredded Parmesan and Gruyere cheese. Stir well.

Using either individual or one large baking dish, place some melted butter and spread all around to avoid anything sticking too much. In the bottom of the dish, place a layer of potatoes, about one inch, then add some pieces of broccoli, and cover with more potatoes.

Pour the liquid mix on the top of the potatoes. Cover the dish(es) and bake in the oven at 325 degrees for 35 - 45 minutes, depending on the size of the dish. To check doneness, insert the blade of a knife. It will slide in easily once the dish is sufficiently cooked.

For optimal quality, let it rest, then reheat, adding more cheese on top and browning in the oven.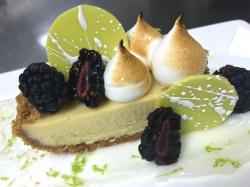 Key Lime Tart
3800 Ocean at Palm Beach Marriott Singer Island Beach Resort & Spa (Riviera Beach, Fla.)

This tart's bright citrus flavor embodies all the breezy splendor of a Florida beach at sunset.

Brown Sugar Graham Crust
1-1/2 cups graham cracker crumbs
1/4 cup brown sugar
6 tablespoons butter, melted, hot

Combine graham cracker crumbs and brown sugar with a whisk.
Add in melted butter. Portion into desired mold. Bake for 10 mins at 350 degrees.

Key Lime Custard
14 oz. condensed milk
3 egg yolks
4 oz. lime juice
2 tablespoons lime zest
Combine all ingredients together in a bowl. Pour into baked graham shell. Bake at 350 degrees until the pie jiggles just slightly and doesn't stick to your finger when touched. About 10-12 minutes.

Swiss Meringue
4 egg whites
1 1/2 cups sugar
Combine sugar and egg whites in a bowl over a pot of boiling water. Whisk constantly till the egg whites reach 160 degrees F. Take off heat and immediately transfer to a mixer with a whisk attachment. Whisk on high speed until cool and the meringue is stiff and glossy. Pipe as desired on top of the pie. Torch with a blow torch or put under broiler until desired color.
Comments on Facebook