Top Story
Authorities are closing honky tonks, bars and other drinking establishments in some parts of the U.S. to stem the surge of COVID-19 infections — a move backed by sound scienc...
Google is served with the vast majority of "geofence" warrants because it stores information from millions of devices in a massive database known as Sensorvault.
Pence has spent the past week trying to convince the American public that things are going very well, even though they're not. For public health experts, the optimism has been unmoored from reality.
April and May brought the deadliest stretch of COVID-19 to date. And this past week, the number of new coronavirus cases per day hit an all-time high of 50,000. The message all along the way: "It's under control."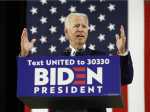 On an average day, President Donald Trump sends about 14 posts to the 28 million Facebook followers of his campaign account. His Democratic rival, Joe Biden, delivers about half that many posts to an audience of just 2 million.
A growing body of research suggests heart attacks, angina and other heart events increase during winter and summer. Now, a new study could explain why.