Top Story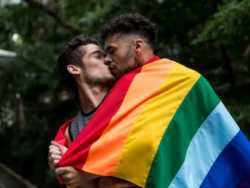 George Takei took to Twitter to wonder, "What if gay guys took pictures of themselves making out with each other or doing very gay things, then tagged themselves with #ProudBo...
Federal agencies warned that cybercriminals could unleash a wave of data-scrambling extortion attempts against the U.S. health care system.
If younger LGBTQ Americans transform their passions for issues like climate change, gun control, and racial and gender equality from social media likes into actual votes, voter-turnout records could be smashed in November.
While nobody is suggesting you trade in your gym membership for a game subscription, it turns out there probably are worse things you could be doing with your leisure time, experts say.
For Delicious Experiences, the possibilities for cooking, mixing, eating, and drinking entirely online are only just beginning.
With next week's election looming, the CEOs of Twitter, Facebook and Google received a hectoring from Republicans at a Senate hearing Wednesday for alleged anti-conservative bias in the companies' social media platforms.